Risen with Christ
He is risen! And so are we! Jesus' death and resurrection give us new life—and not only the gift of eternal life, but a new life here, on earth, living for him. Our great God, creator of the universe, has a part for you to play in his plan. What a privilege! Wherever God has called you, Resonate Global Mission is here to walk with you. May you experience the leading of the risen Savior this Easter!
Sent with the Spirit
The Holy Spirit isn't only a gift for us—the Spirit gives us gifts to use on mission: teaching, service, discernment, encouragement. Equipped by the Spirit, and filled with the very breath of God, we are sent into the world to live out the good news. As you go with the Spirit into your life, Resonate Global Mission is here to help you discover and respond to God's call.
Resources
to order

Easter
Pentecost
Order resources for your church at this link
To order by phone, please call:
800-333-8300
We at Resonate Global Mission hope and pray that these materials will prove to be helpful as your congregation celebrates Easter and Pentecost this year.
Children's Bulletins
Click the image to download a free children's bulletin for your Easter and Pentecost service!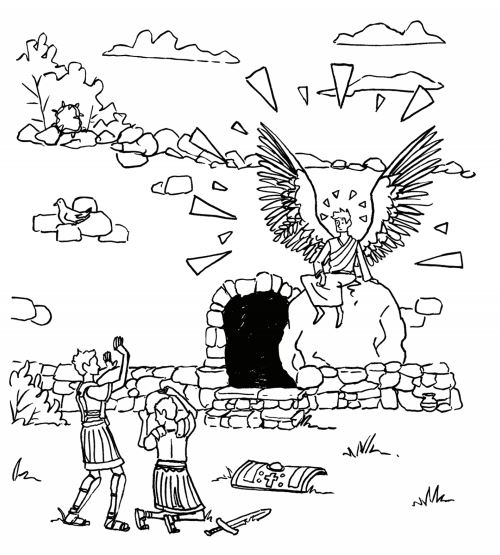 Resonate Videos
Videos are a great way to share how your congregation has an impact around the world. Please consider showing a video during an offering, posting it to your Facebook page, or sending it in an email to your members!
Let's Resonate with God's Mission!
Our mission is to come together as a church and proclaim the good news of God's grace and build God's kingdom on earth. Thank you for joining us in God's mission!
Art and Community: Reaching Out and Building Unity through Art
Resonate Global Mission church plant partners are reaching out to—and serving—communities in unique ways. Ethnos Community Church in Bellflower, California, started hosting jewelry classes. That's how Martha found the community she longed for.
She also discovered Christ's unconditional love.
The Resonating Effects of Missions Across the Globe
When the gospel changes people's lives, the good news starts to echo out. Watch a video that shows how Resonate's ministries are bearing fruit across the globe. 
Contact
For Resonate resources call Faith Alive at 800.333.8300 or visit Faith Alive on the web.