During the fall, most churches set aside time to celebrate missions. This often takes place as a mission emphasis church service, but can also involve many other activities, both during the week and after your church service. Synod has requested that your church take an offering for Resonate Global Mission on the second and third Sundays in September, a time when many churches celebrate a mission emphasis week.
Resonate resources for mission emphasis
Each year, Resonate produces bulletin covers and inserts your church can use for a mission emphasis service. These can be a great tool to help your church deepen its connection with the missionaries you support.
These bulletins will help encourage your congregation as you praise and thank God for the ways he is using the Christian Reformed Church to announce and live out the gospel. This year's theme—Whole Church, Whole Gospel, Whole World—focuses on Acts 1:8 and how each one of us has a role in God's plan for redemption.
Projection Slide: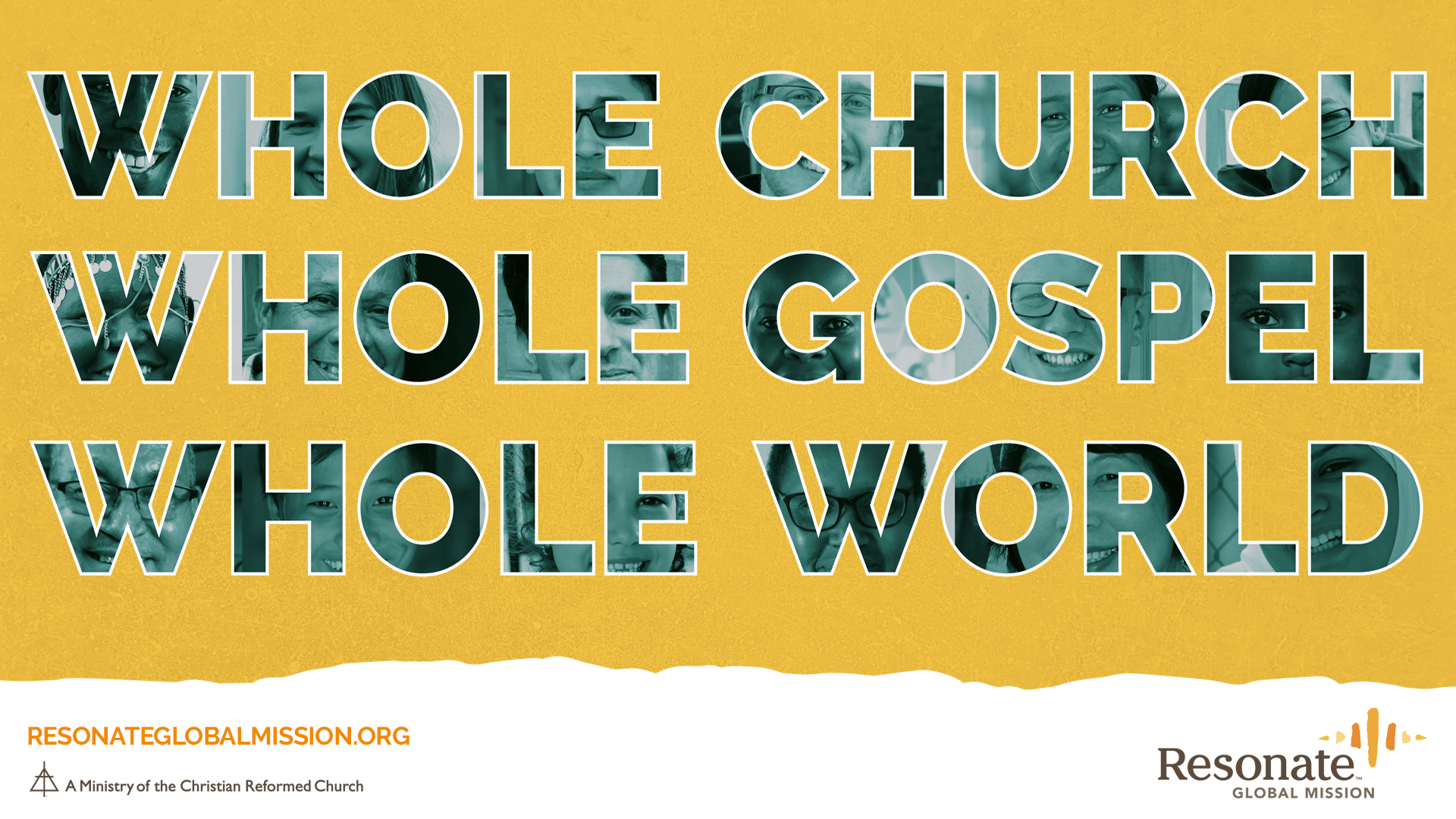 Videos
Resonate Global Mission: Deepen, Strengthen, Amplify - 3:44min
Let's Resonate! - 3min
You Will Be My Witnesses - 1min

Order these free resources online:
In English
In Spanish
In Korean
Choosing your own theme for your mission emphasis service
Consider the needs of your church. What are the mission priorities of your congregation? What is on people's hearts? What theme might connect with the mission work your church is involved with? You may want to center your theme on a certain passage or verse in Scripture. A hymn or song with a mission focus may also influence your choice of theme. This can be sung during the service to reinforce the theme.
We have an extensive list of themes to get you started—use them as they are or come up with your own variation!
A Church in Every Nation
Across the Street, Across the Sea
Building Our World Vision
Carry the Light
Declare His Glory
Every Tribe, Every Nation
Follow Me
Getting Started
As you or your church's mission committee plan for these types of events, here are some tips to keep in mind from Resonate. These tips will help you get more people involved in your church's celebration:
Use a Variety of Techniques: Different messages speak to different people. If you want a variety of members of your church to be involved in the work of missions, have more than one type of missions-emphasis event. Try hosting them in different locations and at different times too.  
Don't Expect Everyone to Give Everything: Many people think that they are simply too busy to get involved with a new project or event. Help them see that they, too, can take part in your church's mission work while still acknowledging their busy schedules. See step 3 for more help with this.   
Your Church has gifts–use them! Everyone in your church has different talents—help them realize how they can use these to get involved in missions. Ask those who love to cook to make a new dish at a fundraiser. Let those who have a gift of hospitality host missionaries in their home.  
Repeat Yourself: Along with people's busy schedules comes the challenge of making sure everyone heard your message. You may have to ask people more than once to get involved. You may have to try an event a few different times to get a good idea of people's response.  
Look at the Big Picture: Don't forget to remind people of the larger scope of what you are doing. Although it can seem like a lot of work at times, the effort your church puts into missions has a common goal. Help people see how they play an important role in  with their own gifts.
Read our Mission Emphasis Guide