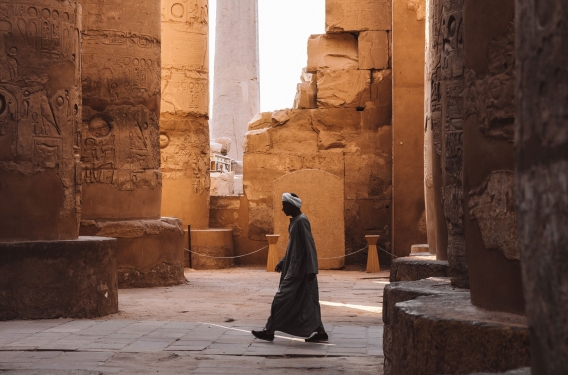 What does it look like to walk with Christ? That's one of the questions five young adults are exploring together through Cohort Middle East, a Resonate Global Mission discipleship opportunity for adults ages 18-30.
Each week, the cohort gathers around a table in a flat in a Middle Eastern city. Outside, the city streets are raucous with people shouting and car horns blaring. But inside the flat, things are more peaceful. Conversation and laughter fill the air as the group enjoys a meal together. After a day of classes, studying, and working, the young leaders can rest a little and share with one another what God is teaching them.
"Cohort is a community that grows together spiritually. We use that time to deepen our relationship with God and explore God's purpose for our lives," said Emily*, a Resonate missionary who leads Cohort Middle East. She and her husband host the cohort for dinner each week, teach and disciple them, and travel with them to historic sites.
Many of the Cohort Middle East participants, called "fellows," joined because of that promise of a faith community where they can learn and grow in their walks with Christ.
After graduating from university and starting her career as a teacher, Delia struggled to find a community where she could strengthen her faith. The church she attended had a young adult group, but they welcomed so many new faces each week, they never had the opportunity to dive into Scripture and study the Bible—something Delia was longing for.
"I think before Cohort, I was in a place where I was spiritually not doing so well," said Delia. But through Cohort, she has been able to be part of a faith community that is passionate about learning more about God, Christianity, and mission.
Throughout the past few months, the fellows have studied the history of Christianity in the country in which they're living. They've learned more about Islam, too, and the differences and similarities between the Islamic faith and Christianity. They've discussed how culture influences how people perceive and relate to God. They've lamented over the suffering and injustices they've seen in their communities and throughout the world.
"They are curious about how [each] subject fits with the Bible … and how the subject can be applied to their life," said Emily. 
Every few weeks or so, a guest will join the cohort for dinner. They've enjoyed learning from a monk, an Islamic leader, and several others who have shared what it means to them to walk out their faith.
"When hearing the testimony of others, they ask a lot of personal questions. They want to hear their stories. We always share prayer requests and pray together at the end," said Emily.
One major focus of Cohort Middle East is unity and diversity in the global church, and how believers all over the world are walking with Christ.
Margot describes the cohort as "a community of learning from others, with others, about what the church really looks like."
"It's been really healing for me to see how churches can be working together from different backgrounds," she said, "instead of just one background saying, 'Well, we have the right way and everyone needs to be ministered to by us.'"
"Being exposed to all these different kinds of topics, and seeing how people are serving God, has really helped me see that maybe there isn't just one way to do things," added Delia.
Seeing collaboration among denominations, and even different faiths, has been refreshing for all of the fellows. But Cohort Middle East does not only provide an opportunity to learn about the topic—the cohort is designed to provide an opportunity for practical, hands-on experience bridging cultural divides and working together as part of the global church. 
"Our cohort stresses spiritual formation and building community," said Emily. "We have learned what it is like to be part of the family of God with people from diverse countries, cultures, religious backgrounds, and languages."
The cohort itself is a diverse group of young adults from a variety of cultures and backgrounds. When they are together, they speak "Arablish" because two of the fellows speak Arabic and are learning English, two speak English and are learning Arabic, and one fellow often translates because she speaks both languages fluently.
All of them are eager to follow God's call on their lives, and they each have a desire to walk out their faith and share the gospel in their daily life. A few of the fellows teach. One fellow is a videographer. A few of the students are studying at university. Each fellow brings a unique experience and perspective to the conversation.
One fellow, Eric, moved around a lot while he was growing up. He's lived in different countries and been in many multicultural settings and contexts, but he said that the Cohort Middle East community is different.
"Just because you put people from different cultures together doesn't mean that there's automatic relationship-building. That's something very special about the cohort … there's a sense of cohesiveness," said Eric.
As the fellows have learned more about God's diverse global church, they've also grown in their relationship with the Lord.
Ereny said it was helpful to learn how culture influences how people think about and pray to God. She said that because of Cohort Middle East, she can see different aspects of God's character through different facets of culture. Timothy also said that the cohort enabled him to see God in a new light and to be open to new ways God might be speaking to him, whether that is through Scripture, prayer, worship, nature, another person, or another way.
Cohort Middle East has provided an important opportunity for these young adults who are not just exploring ministry opportunities for the future, but who are involved in ministry in their daily lives right now.
"It's really inspiring when we see other parts of the body of Christ doing different things, or doing the same thing differently," said Eric. "It's inspiring to see how other believers walk in their faith."
Are you a young adult who is interested in discovering God's call on your life? Are you passionate about exploring God's global church? You can find more information about Cohort at: www.ResonateGlobalMission.org/Cohort
*All names have been changed for security purposes