Edgar is a dedicated pastor living with his wife, five grown children, and grandson in Nicaragua. The small church he pastors isn't able to support him financially, so he also owns a welding business.
Working long hours welding made it possible for Edgar to pastor a church, but his financial situation made it hard for him to find time for ministry. When he participated in a Finances for the Kingdom course facilitated by Resonate Global Mission missionaries Jari and Jesse Rodriguez, he felt convicted to surrender his finances to God and learned how to manage his finances better. Now, he has more time for ministry.
Skeptical about Finances
"Edgar takes advantage of every opportunity to learn more about his Christian faith [and] to bless his congregation with new wisdom," said Jesse.
Even though Edgar was busy with his family, welding, and pastoring a church, he still made time in his schedule to develop his leadership skills. In the past, he had participated in training facilitated by resonate partner the Nehemiah Center. 
But when the Nehemiah Center invited Edgar to participate in the Finances for the Kingdom program that Jesse and Jari facilitate, Edgar hesitated—he was skeptical of any biblical teaching about money.
"[Edgar] hates prosperity teaching," said Jesse. "He didn't want anything to do with money. He said money had no place in God's kingdom."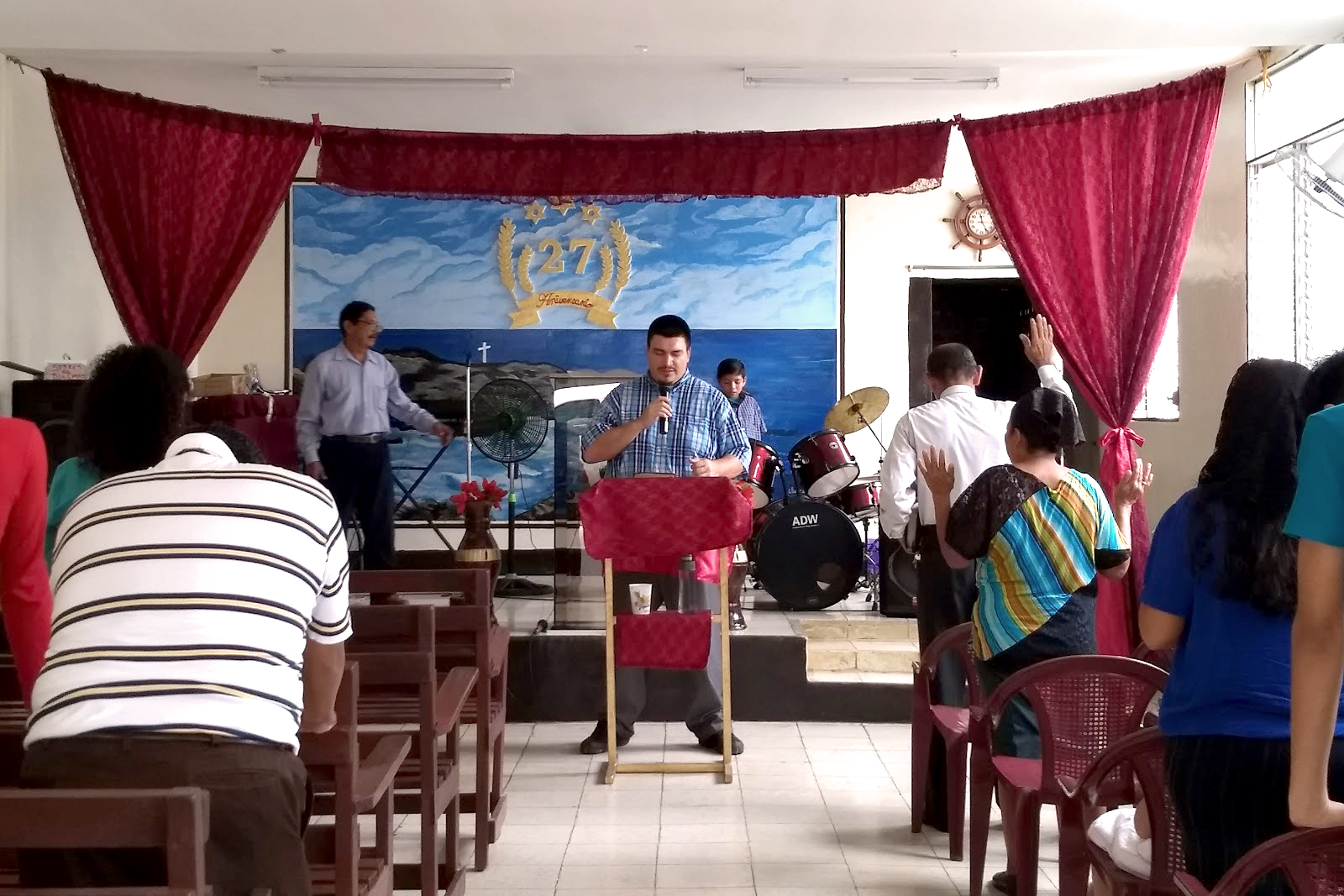 Resonate missionary Jesse guest preaching at Pastor Edgar's church.
Seeing Finances in God's Light
Edgar wrestled with whether he should attend the training. But because training from the Nehemiah Center had helped him in his ministry before, he thought he would give Finances for the Kingdom a chance. The very first session surprised and encouraged him.
"What does God say about our finances?" Jesse and Jari asked.
They prompted Edgar and other participants to go to God's Word. Edgar read familiar Bible verses—Scripture that he's read many times and had shared with his congregation—but that day, Edgar saw those Bible verses in a new light.
The Holy Spirit worked through the Finances of the Kingdom teaching to show Edgar that God cared about finances just as much as he cared about Edgar's spiritual well-being. But Edgar didn't just experience a change of heart. He felt convicted to surrender his finances to God and change his habits, too.
Freedom in Finances
Jesse and Jari gave Edgar tips on how to better manage his finances. Edgar started by writing out his family's budget and hanging it where everyone in his family could see it and contribute—they wrote out what money was needed for food and bills, what money was coming in, and where all the money was going. Edgar also started saving money and paying off debts.
Edgar wondered if he would feel restricted keeping a close eye on his budget, but he experienced more freedom instead. "[Participants] start to see God's faithfulness and goodness as they start applying these principles," said Jari.
Edgar discovered that as he managed his finances better, he didn't have to spend as many hours welding. He could devote more time to his ministry! He not only has more time to spend with members of his own congregation and community, but he's even been able to travel to El Salvador and more rural regions of Nicaragua.
"That's the goal of our ministry," said Jesse, "to strengthen the Nicaraguan church."
Thank you for the role you play in this work! Your support of Resonate missionaries and partner ministries like the Nehemiah Center make the Finances for the Kingdom course possible. Thank you for helping to strengthen the Nicaraguan church!
This story was originally published on crcna.org.