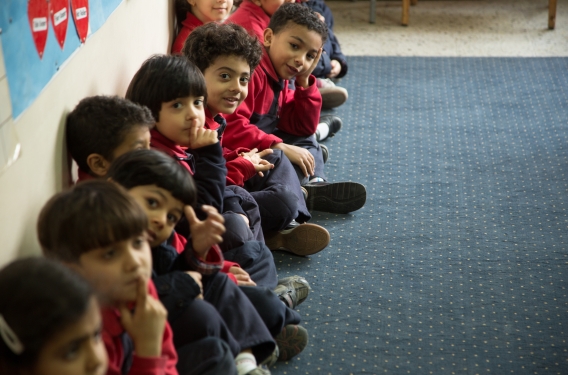 When a librarian frustrated by bullying in her Middle Eastern school asked God for help, he answered.
The school was plagued by bullying. Older students shoved younger students in the hallways and knocked them to the ground on the playground.
They taunted and insulted one another in the classrooms. The teachers were so focused on trying to keep the kids from fighting and name-calling that learning took a backrow seat.
Still, discipline would not phase the students. As soon as teachers turned their backs, students were back to bullying.
After participating in Educational Care training modules, a learning program of Raise Up Global Ministries facilitated by missionaries sent by Resonate Global Mission, Maria (not her real name) went from feeling powerless to feeling convicted. She knew there had to be a better approach, so she prayed about what she could do to keep the peace in just one part of the school: her library.
Little did she know just how powerful the solution would be.
She felt like the Holy Spirit told her: "Take some of the older students, the real troublemakers, and ask them if they would be responsible for teaching a younger child how to read."
So, she did. At first, many of the older students were hesitant or unenthusiastic about the idea, but they agreed and began coming to the library to teach the younger students how to read.
They grudgingly worked through the texts, but then something surprising happened: their demeanors changed. They began walking around school, proudly carrying the books they were using to teach the younger students how to read.
And then they started protecting the younger students in the hallways.
And on the playground.
"The whole atmosphere changed because these troublemakers felt like they were trusted," said the Resonate missionary. "The bullying went way down. There were teachers in the school looking at the librarian like: What a great way to deal with this problem."
Educational Care training modules invite Christian educators like Maria to gather together and discuss challenges they face in their schools, like bullying. Guided by Resonate missionaries, educators read and discuss scripture together so they can develop a Biblical approach to education.
"It has become such a part of me I don't think about it anymore," Maria said. "It's who I am, and I'm thinking that way without purposely thinking: What is the biblical view on this? It's just part of me."
Each educator takes the skills and strategies she learned from the training and puts it into action in her own classroom—or in Maria's case, her library.
"The kids are changing," said the Resonate missionary. "There's power in God's word."
But the transformation doesn't stop there.
"It spreads through the schools. Other teachers see that it works. Even teachers who aren't Christians say, 'There's something different about this.'"
Thank you. Your prayers and support of educational care trainings through Resonate have helped transform Maria, her students, and the teachers she works with.
 *Name changed for protection.
A version of this story was originally published on crcna.org/news.