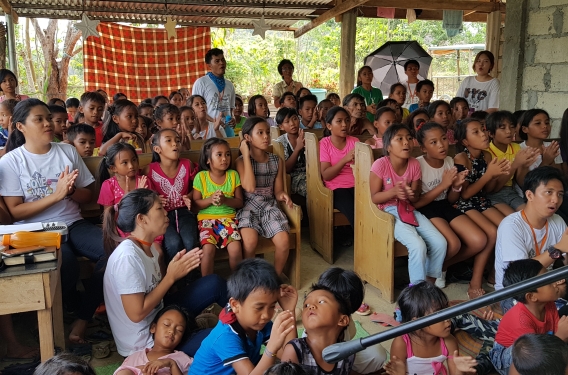 Each year, missionaries in the Philippines lead a 50-day Vacation Bible School for thousands.
This year was no different: their record crowd of kids exceeded 6,000.
Some of the leaders there were teachers from nearby Christian schools with new training from Resonate. Paul Yu, Resonate's Regional Leader for East and Central Asia, hopes that learning from Educational Care training will help these teachers incorporate their faith into their teaching.
Educational Care is a learning program of Raise Up Global Ministries facilitated by Resonate Global Mission that encourages and assists educators and schools with limited resources by giving them an opportunity to develop skills and strategies of education that honor God, his creation, and the children in their classrooms. Participants learn from the curriculum as well as from one another, and are challenged to put their new skills into action.
The VBS program and this recent Educational Care training session both took place in Tuguegarao, a fast-growing city of about 150,000. Missionaries from the Kosin denomination in South Korea, who are involved in both VBS and Christian education, have been working there for many years and are now exploring plans to partner with the Christian Reformed Church.
The Kosin denomination's missionaries have planted 34 churches in the Philippines and most have their own small Christian school.
Paul Yu grew up in the Kosin denomination before moving to the US and still works closely with their missionaries. "They highly respect Resonate for the long and healthy way of doing mission work all over the world," said Yu.
Recently, Yu visited Tuguegarao and offered the first module of Resonate's Educational Care training to 23 teachers from local Christian schools. In Tuguegarao Presbyterian Church, Paul met with these teachers for a weeklong seminar where they covered the first part of the Educational Care curriculum, titled "The Biblical Worldview."
The teachers worked through lessons that challenged them to ask each other, "How are we to live in Christian community?" and, "What is our vision for life and teaching?" In partnership with Resonate, teachers in Tuguegarao are enhancing the relation of their faith with their teaching and learning.
After a week of training, teachers were encouraged and ready to incorporate their faith into their teaching in new ways. "I learned that I have to teach everything from God's kingdom perspective," said one teacher. Another shared that they learned a better way to teach: "...not just lecture style but to help students to be motivated to learn themselves through activities and discussion."
Yu is excited to return to the Philippines and continue training these teachers with Educational Care program manager Al Persenaire. Your support for Resonate is providing training and encouragement for teachers around the world—thank you!