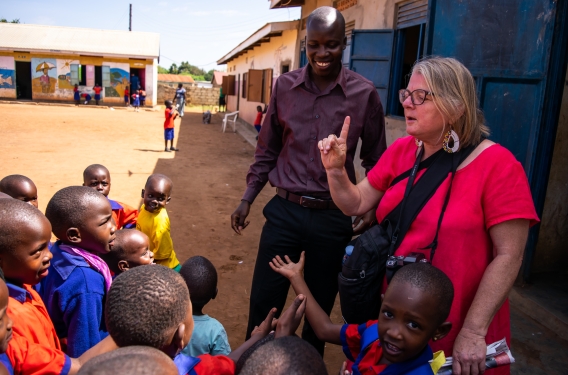 Resonate Global Mission missionary Diana Boot should have been wrapping up a whirlwind cycle of Educational Care training with educators in Uganda and Kenya—but in late March, COVID-19 hit: schools closed and teachers weren't able to meet for training.
After consulting with doctors and Resonate leaders, Diana thought it wise to return to Canada. She took one of the last flights out of the country before borders closed and has been continuing ministry as an encouraging mentor from her home in Ontario.
"The work of the Lord continues around the world," said Diana. "We just have to be creative and find different ways to do that. One of the biggest ways for me to do that is to be a prayer partner and, on a personal level, help in ways I can."
COVID-19 Brings Many Challenges to Schools and Communities
Diana facilitates Educational Care training in Eastern and Southern Africa, especially in Uganda. A curriculum of Raise Up Global Ministries, Educational Care equips teachers with a biblical worldview that helps them be the hands, feet, and voice of Christ in their classrooms.
Diana works closely with educators and has kept in touch with teachers as much as possible through email and WhatsApp. The coronavirus has brought many challenges to schools and communities throughout the region, and teachers have voiced concerns to her.
For example, while the government has been providing educational content through television or online, it has been sporadic—and not all families have electricity, a television, or internet to access the content. Because teachers aren't working, they aren't getting paid, and many of their students' parents have lost work as well.
On top of the coronavirus, there has also been flooding in Uganda near Lake Victoria that has displaced people, damaged farms and crops, and devastated markets.
A teacher that Diana works with is the head of a school in an area that was flooded. It's an area where many people live in poverty.
"He's really concerned because the market was flooded out by the lake and many students who come to his school are headed by single-parent families. Many mothers work in the market, but the market was completely destroyed and washed out, so they can't work," said Diana. "It's bad enough at this time to figure out how to feed your children when basically what you make in a day dictates what you buy for supper."
Concerns about the Future
In addition to concerns for teachers and families making ends meet during the coronavirus pandemic and aftermath of the flooding, Diana and many educators are worried about how these crises will affect schools long-term.
Government schools throughout sub-saharan Africa are overcrowded and underfunded, so many parents try to send their children to private schools.
"All the private schools depend on fees to pay their teachers," said Diana. "Will teachers be able and willing to work for nothing, or at least not get paid for a long time?"
One teacher in particular has told Diana that he's very afraid about the future of his school.
"His school is a real place of ministry," said Diana. "He's well aware that, for many children in his school, when they get their afternoon meal [at school], that's the only meal they get."
With the uncertainty and anxiety, Diana said one of the biggest ways she's been able to support teachers during this time is by listening to them, encouraging them, and praying with them. She's also been able to provide some financial relief for individuals and families when needed.
Working Toward the Future
Even though the future of education in Eastern and Southern Africa is uncertain, Resonate is still working toward better equipping teachers, schools, and communities for the future. With trainings cancelled, Diana has been able to work with colleagues on revising manuals for teachers and Educational Care facilitators. 
"We've worked with the manuals a lot now," said Diana. "Culture is dynamic and things are changing quickly in Africa. New opportunities are emerging in other areas of the region. We have been working with the original curriculum for some time and now have the time and space to formalize changes and additions.
They've also been able to start developing training materials for parents that highlight raising children from a biblical perspective. Many teachers who have children said that Educational Care training has made them better parents, and they've voiced a desire to share resources with families.
There's a need for Educational Care in many countries throughout the world. Thank you for partnering with Resonate and Diana as she supports teachers during this challenging time. Many schools have struggled to provide training for teachers before the coronavirus—coming out of this crisis, Educational Care will be more important than ever before. 
Pray
Give thanks that, despite the disruption of Educational Care training and other ministry plans, Diana is still able to minister in unique and different ways. Please pray for her as she encourages and supports teachers from afar. 
Pray for teachers and parents who have lost jobs and are struggling to find food for their families. Ask God to provide. 
Pray for teachers who are anxious about the future of their schools. Ask the Holy Spirit to draw them near to God, whose perfect love casts out fear. 
"Across the world, the coronavirus and the response to coronavirus, has caused huge economic fallouts," said Diana. As countries throughout the world work to rebuild their own economies, pray for giving across borders—that countries will still be able to share resources, and in a way that doesn't create unhealthy dependence.
Check out this recent video from Diana's ministry!