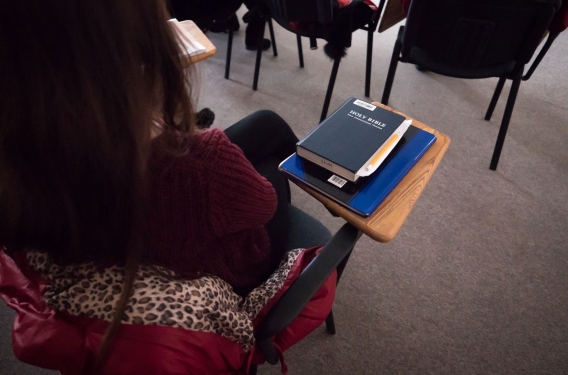 You can help provide a family of faith to support and encourage them.
Does your family support you through the journey of life's ups and downs? Not every Christian has a family who can walk alongside them as they grow.
In fact, new Christians like Aliya (not her real name) depend on support from your Resonate missionaries.
Aliya accepted Christ and was baptized in Klaipeda, Lithuania, where she attends LCC International University. LCC is a Christian liberal arts university where your Resonate missionaries serve teaching theology, philosophy, international relationships, and writing. They also run campus ministry programs and support students like Aliya. 
You see, Aliya is from a Muslim-majority country in Central Asia, and her family are Muslim. They disapprove of her new faith, and on her recent visit home she endured bitter words from her mother before cutting her break short and returning to school. 
But because of generous support from churches and donors that give to Resonate, when she returned saddened by her visit and struggling emotionally, mentally and spiritually, your Resonate missionaries were there for her.
This story is not unique. In fact many new believers look to your Resonate missionaries for spiritual support as they grow in their new faith.
God has used your missionaries to lead Aliya in her spiritual walk. It was Resonate missionaries in Lithuania who celebrated her baptism with her. Now, it's Resonate missionaries that she needs to guide and encourage her as she continues her walk with Christ.
That's why we are asking for your continuing support for new believers like Aliya around the world. Resonate is your Christian Reformed mission agency, and by giving to Resonate this Christmas season, you can directly invest in people's lives and bring hope!
The hard reality is that Aliya won't be celebrating Christmas with her family this season. But you can help support her and be a part of her family of faith by giving a special Christmas gift. Through Resonate, you can support ministry around the world!
Resonate missionaries serve right where people like Aliya live, work, and go to school. In Lithuania and more than 40 other countries, the missionaries you send guide people toward Jesus through studying Scripture, providing encouragement, and helping them build a solid foundation of faith. 
Aliya needs that solid foundation because the hardest part of her faith journey is still ahead of her.
Making a special gift today is a vital way you can ensure people like Aliya receive the support they need through Resonate ministry staff. Serving around the world, your missionaries, church planters, and campus ministers are there to disciple people like Aliya.
Click on an amount to make a safe and secure donation now