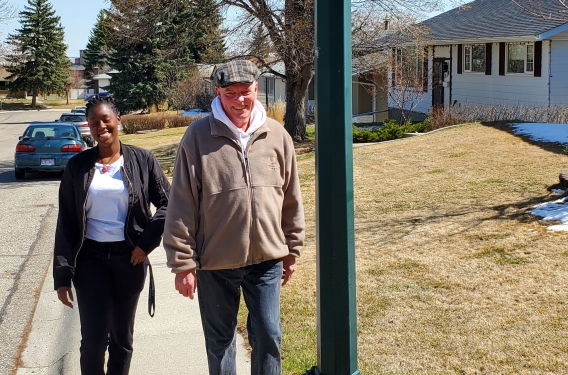 When Ary started taking "love your neighbor" literally and started practicing it in his daily life, his faith came back to life.
Ary Vreeken was on the verge of leaving the church.
"I was so discouraged," said Ary. "We seemed to be gathering [as a church] for mutual support but no purpose beyond that … there was no drive for us to get out of our comfortable pews."
Ary wasn't paying close attention during worship at church, but he remembers hearing about Go Local. A Resonate Global Mission initiative, Go Local invites believers and churches into a process of getting out of those comfortable pews, stepping outside of the four walls of the church building, and joining where God is at work in our neighborhoods.
Ary wasn't interested. He thought Go Local was just another church program, and he already had relationships with some of his neighbors, so why would he need Go Local? How was this any different?
But then one of his friends and colleagues, who works with him in community development, explained the process to him and invited him to a meeting. Actually, Ary jokes, his friend "dragged him kicking and screaming."
At that meeting, something shifted for Ary.
"It was the call to be intentional," said Ary. "I was living in a neighborhood and had some good connections with some neighbors but had never considered intentionally neighboring for the sake of neighboring. That was the important part: Not neighboring to get people into the church, but neighboring in order to know neighbors and to build community."
Over the course of a few months, Karen Wilk, a Go Local catalyzer with Resonate, coached Ary and other members of the cohort. They spent time reading the Bible, praying, listening to one another's observations and insights about Scripture, and learning how to connect with neighbors in meaningful ways.
The first step was simple: Ary started by taking walks in his neighborhood of 72 homes housing elderly couples, young families, and people from a variety of ethnicities, cultures, and faith backgrounds.
"I didn't see myself much as an outgoing person," said Ary. "But then I very slowly started to get to better know people. Stop on the street and say 'hi.' Talk about the weather. Ask about their dogs. Find out what they were growing in their gardens. Things like that."
Since starting the Go Local process a little more than two years ago, Ary has built relationships with nearly 60 of his neighbors. Bit by bit, he's gotten to know people—some better than others. He checks in with people and prays for them regularly. Conversations about faith often come up naturally, too. One neighbor nominated Ary as a board member of their community association, a position Ary accepted after praying for God's guidance.
"Neighboring has re-energized me spiritually," said Ary. "I came to realize that we [as Christians] tend to read the Bible and Jesus' words as metaphors, which gets us off the hook of actually, practically implementing Jesus' words. When I started taking 'love your neighbor' literally and practiced it in my daily life, my faith came back to life."
God is not only at work in Ary, however. God is also at work through Ary. He is starting to see faith come to life in his neighborhood, too.
After a few conversations with one of his neighbors, Ary learned that this particular neighbor, as a child, had had a bad experience with Christianity and the church.
"He doesn't like church. He doesn't like Christians," said Ary.
But when another neighbor landed in the hospital, Ary called this man and said, "I know you're a man of faith. Will you pray for this neighbor?" The neighbor eagerly agreed and sent Ary an email later saying that God was all-powerful and he would be praying for the man in the hospital.
"He's a man of hidden faith," said Ary. "But his faith is coming alive because he's speaking about it."
Ary has had many meaningful conversations with neighbors about faith, and he's planning on spending more time with his neighbors and taking on the role of a community chaplain after he retires from his career. 
"I think Go Local is critically necessary, critically needed in the church," said Ary.
He says that not just as a believer and long-time member as a church, but also as a community development practitioner who wants to see holistic transformation in communities.
"Key for community resilience is neighbors knowing each other and trusting relationships with neighbors," said Ary. "Before EMS and the fire department shows up, your neighbors are there. Do you know who's there to help and who has what resources? Do we have a neighbor who has trouble with mobility? If we ever need to evacuate, who's going to pick her up?"
"Do you know your neighbors? Do you love your neighbors?" he continued. "I think that is a command that is ignored … I think it's critical for our church members to see ourselves as the church in our community."
Want to be the hands and feet of Christ in your neighborhood but not sure where to start? Resonate is here to equip and coach you. Learn more about Go Local at www.resonateglobalmission.org/go-local