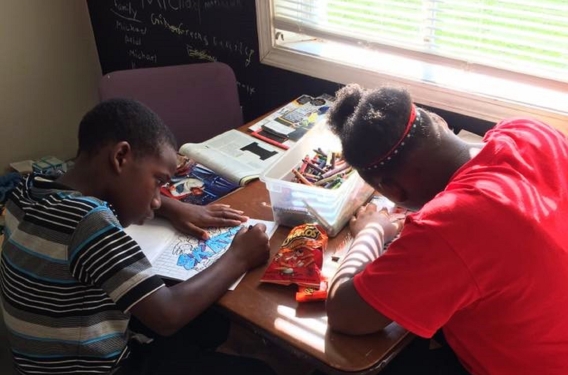 Note: Read the introduction to the Used Tires series to learn the meaning behind the metaphor.
Detroit,  Michigan, is a city known for its poverty and resulting crime. Many neighborhoods, blighted from downturns in the once-booming auto industry there, could be described as "used tires." But as Mark Van Andel saw beyond that and began serving in the Brightmoor neighborhood, he has partnered with Resonate Global Mission for church planting support.
That support makes a difference in the lives of people like Jordan.
Sometimes after school, Jordan drops in to the ministry house where Mark serves. That's where Mark first recognized a talent in Jordan that most 12-year-olds don't have.
"He has an entrepreneurial spirit," says Mark, sharing that Jordan buys and sells snacks and other items to help him pay for school activities.
A Vision for Leadership
People like Jordan are the reason why this ministry house in Brightmoor exists. As women and men come to charge their cell phones, warm up in the middle of Detroit's cold winters, or simply have a conversation, they begin to see what else the ministry has to offer—from Bible studies to discipleship classes to neighborhood block parties.
"Our vision," says Mark, "is that in the coming months and years, some of these local leaders in our discipleship group will begin to take over the day-to-day ministry leadership in this house and carry on the movement in this neighborhood and others in Detroit."
Jordan isn't regularly attending Bible studies yet, but he is learning a biblical model of living from the people you have sent into his neighborhood.
"We have influence in his life," says Mark. "Teaching him things like ethical ways to sell things will help him be successful not only from a worldly standpoint but in developing his character as well."
Thank you for your prayers, support, and financial gifts to Resonate Global Mission. Your gifts are allowing communities of 'used tires' to find new potential. 
This post is part of a 3-part series. Read part 1 here.  Read part 3 here. 
Donate Now
US Dollar Donation Form
Go to Canadian Donation Form