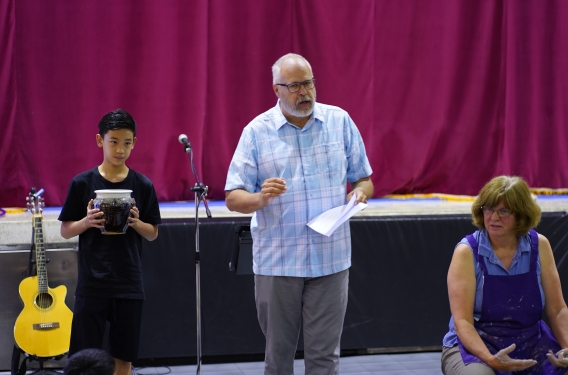 Resonate Global Mission partner Morrison Academy in Taiwan provides a Christian education for children of missionaries and other international workers, but one campus only had classrooms and curriculum for students through ninth grade.
When students reached high school, they had no other choice but to live and study at boarding school in another city, or even another country.
But Resonate Global Mission missionaries Brian and Bette Vander Haak are working with the school to develop curriculum for grades 10-12 so students can stay with their families—and in a supportive Christian community.
The Challenges of Living Cross-Culturally
"Boarding school is a good option for many students, but not all students thrive in a boarding situation," said Brian.
The Vander Haak's note that children who are living cross-culturally often face a unique set of challenges. Living in another culture, students don't always identify with a single culture or have a clear understanding of where "home" is for them. 
Morrison Academy's staff is equipped to help students with these challenges. Faculty and staff not only provide an excellent academic education rooted in Biblical principles—they provide emotional support and direction for these students as they navigate challenges of growing up cross-culturally.
When students reach high school, they aren't always ready to leave their families or communities. That's why Brian has been working with Morrison Academy's administration to develop custom high school curriculum and establish high school classrooms.
Staying Connected with a Supportive Community
"Now [students] have the option of staying with the school, staying with their families," said Brian. "And their families can be involved at the school and come to their concerts and their programs."
Brian teaches tenth grade at Morrison Academy. Last school year, all 19 students in the tenth-grade class decided to stay at the school. "[They had] 19 different reasons for staying," said Brian, "but they all had the same theme of staying the course, staying connected."
Brian, Bette, and their colleagues see the value of students being able to stay connected with Morrison Academy's supportive Christian community.
One student's family practices Hinduism. His parents wanted him to have a good education, so they sent him to Morrison Academy. There, he learned about Christ. "He was a seeker for years … now he considers himself a professing Christian," said Brian. 
Teachers at Morrison Academy walked alongside this student as he discovered his faith in Christ. They've mentored and encouraged him to grow in his new-found identity—and now, they can continue walking with him throughout his high school career. 
"This is going to be the best possible environment for him," said Brian. Thank you for supporting Resonate missionaries Brian and Bette as they work hard to provide a supportive Christian community for students of all ages!