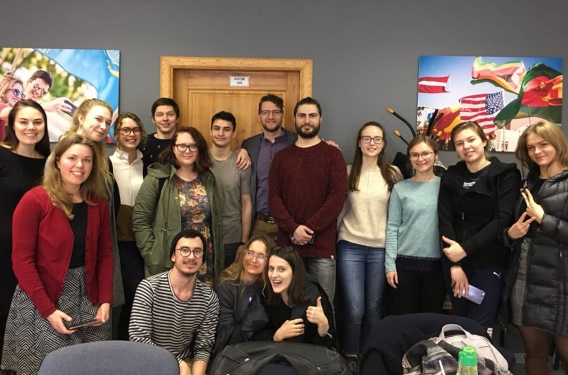 Students at LCC International University, a Resonate Global Mission partner in Lithuania, are learning the importance and power of sharing their faith with their peers—starting in their dorms.
Empowering Students to Do More
LCC provides a Christian education for students from 38 countries around the world, but many of them aren't Christians. While student believers are passionate about campus Bible studies and worship experiences, Resonate Global Mission missionaries Adam and Laura Rodeheaver-Van Gelder thought students could do more.
They wanted to challenge and empower students to share their faith with their peers.
That's why Laura set out to launch student-led Bible studies on each resident hall floor. She and Adam wanted to encourage students to share their faith with students who had little or no knowledge of Christ—students who wouldn't normally attend a Bible study on campus.
Student Resistance
Laura contacted more than a dozen students and invited them to lead a Bible study on their residence hall floor. The more she talked with students, however, the more resistance she hit.
"Some thought it was invasive," said Adam. "Others thought it wouldn't work. Others were even defensive, wondering if we were trying to get rid of the longstanding Bible study on Friday evenings."
Despite the lack of initial support, Laura and Adam persevered. Students like Roberta Grimalytė stepped up.
Following God's Prompting
Roberta doubted whether she knew the Bible well enough, and she was afraid she wouldn't be a good leader, but she felt God calling her to trust him.
"I was excited to see what God had in store for us." she said. "I knew that I [could] definitely miss a chance to trust and see him at work if I do not let the Holy Spirit work through me."
With training and support from Laura and Adam, Roberta led a Bible study on her residence hall floor.
Transforming Campus
The Holy Spirit has been working—in and through student leaders like Roberta.
"The biggest change I can concretely see at this time is in the leaders," said Adam. "Many did not think they could lead a study or didn't know how to minister to their peers … this experience is shaping them and giving them confidence. They are seeing that God can and will use them if they are willing to step out in faith."
He said more and more students are embracing the idea of floor Bible studies. Students who aren't Christians are coming to the studies and asking good questions about God and faith in Jesus.
Even if students do not come, Adam said, student leaders and students who participate in the studies are learning to pray for their floormates.
"I prayed for [my floormates] and ... I have faith God worked—and still is—working in their hearts," she said. " I think God's Word is something that breaks the walls and reaches the depths of our hearts."
Thank you for supporting Resonate missionaries as they encourage and raise up young leaders around the world. Pray that God would continue to work in and through the lives of students leaders like Roberta to share the love of Christ.
This story was originally published on crcna.org.