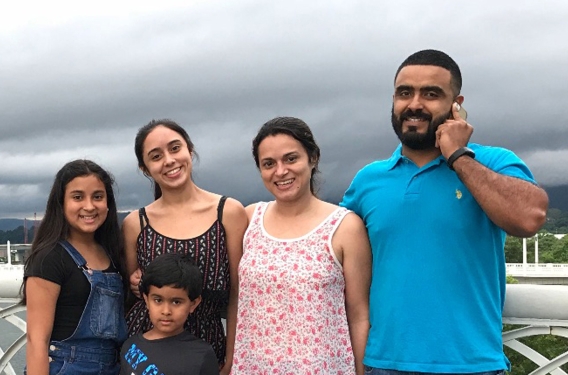 Church plants are key to bringing the gospel to unreached areas. But how do church plants work? And who will do the planting? With Resonate's help, John Granada  is learning these things firsthand.
John felt a call to church planting after serving at Vida Nueva, a CRC church plant in Miami, Florida, for 14 years.
"It was a process of discerning a desire prompted by the Spirit," said John. "I was envisioning, dreaming, and considering how God had gifted me and my family to serve. We were waiting to see what place he would lead us to."
In support of his calling, Sunlight Community, a CRC church in Florida, invited John to participate in a Resonate Apprenticeship Internship at Perimeter Church in Johns Creek, Georgia. In his internship, John would be mentored in church planting by Sunlight's Pastor, Scott Vander Ploeg. But in order to do this internship, John knew he would need some financial help.
Scott recommended John apply for a Resonate Apprenticeship Grant for Emerging Leaders. Apprenticeship Grants assist apprentices in the internship program and provide candidates with opportunities to receive valuable church-planting knowledge and hands-on experience throughout their internship.
Intrigued, John applied and received an Apprenticeship Grant in 2016.
"I felt encouraged because my internship required fundraising, and this was a great opportunity," said John. "Without the grant, this opportunity would not have been possible for my family and me."
Along with crucial financial support, John and his family gained valuable knowledge and experience.
"We have learned to live in light of seeking his kingdom first," he said. "We have grown in our stewardship of the resources God has blessed us with."
John's relationship with God has also grown deeper through his apprenticeship process.
"I've realized that [in the past,] I've seen God as a commander in chief," he said. "But I've grown to live out the truth that he is my father and I'm loved by him."
John now feels prepared and excited for his new journey as a soon-to-be church planter. He plans to graduate from Metro Atlanta Seminary next year and return to Florida to plant a church there.
"The Lord continues to incline my heart and desires toward pursuing full-time ministry and feeling as if there is nothing else I was created and recreated for," he said. "There is nothing else I would rather be doing in this season of my life."
The gospel message is spreading thanks to CRC church plants. Join Resonate as we support new leaders like John in their work to share God's love through church planting.