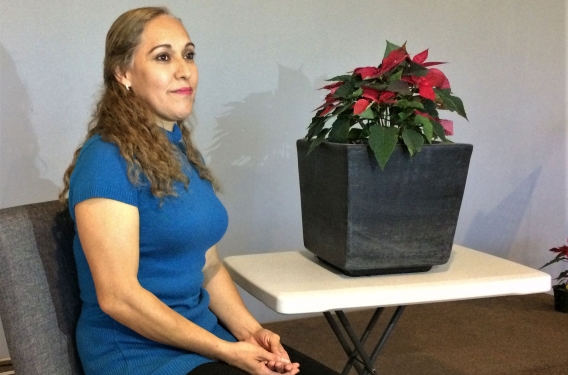 Lupita was rejected by family, friends, and neighbors when she became a Christian. But because you sent Resonate missionaries to Mexico, she found a supportive church community.
Lupita's neighbors in San Agustín, Mexico, are steeped in a distorted Roman Catholicism tradition that prays to saints and believes in idols. Lupita once trusted in idols too. She believed that the Virgin of Guadalupe would hear her prayers and intercede before God—but then she learned about Jesus.
Now Lupita's powerful testimony is drawing others to God.
New Faith
"My life was chaos before meeting Christ," said Lupita. Her marriage had been strained for many years, and then her son confessed to her that he was addicted to drugs. Lupita turned to the Virgin of Guadalupe, known as the "Queen of Mexico," for help.
"I believed that she was going to perform the miracle of restoring my marriage, of changing the behavior of my ex-husband," said Lupita. "I asked her to intercede before God."
But then someone told Lupita about Jesus. "[This man] spoke the Word of God to me," she said. "He read the Bible to me. . . . He taught me and showed me in God's Word that no one can help me except for the Lord. When he began to speak the Word of God to me, it filled me. I rejoiced."
Lupita's testimony does not come without trials. As Lupita came to faith in Jesus as her Lord and Savior, her family, friends, and many of her neighbors rejected her.
"They say God does not exist," said Lupita. "They say I have to trust in their images and idols. . . . They ask me if I'm scared that the [Virgin of Santa Mónica, the virgin of our town] will punish me. No, I am not afraid. I know that God is with me, and I know that God is going to do something [good] in their lives."
New Community
Even though Lupita was confident in God, she faced spiritual warfare and harassment. She needed a strong Christian community to support her new faith. A couple invited her to attend New Life, a church that Resonate missionaries Pastor Ben and Amy Meyer planted with Pastor Esdras and his wife, Mariana.
One Sunday, Lupita wanted to attend worship at New Life but was afraid to enter. A week earlier at the worship service she had experienced unsettling sensations that seemed to compel her to leave. But Ben prayed for her, and Lupita experienced God's peace.
"They support me with the Bible," said Lupita. "When I need help, they are there to help me, and I give thanks to God for being in this church."
With New Life's supportive community, God is working powerfully through Lupita to draw others to him.
New Trust
A few months ago, one of Lupita's friends asked her to visit her nephew, Darío, in the hospital. While working at his construction job, Darío fell several stories and was catastrophically injured. Dario was in pain and afraid, and he was connected to many medical machines and monitors. Lupita and Pastor Esdras from New Life agreed to visit him. When they arrived at the hospital, Darío's mother came to greet them.
"I dreamed of you last night," she told Lupita.
"God had planned it ahead of time that I go and visit Darío in the hospital to share with him the good news," said Lupita. "I said to Darío, 'Would you like to pray a prayer of faith in Christ?' He nodded yes. . . . I told him to trust in the Lord, to not be afraid. God is with [him]."
Darío is one of many who have come to know Jesus as Lord and Savior because of Lupita's passion to share the gospel. Thank you for supporting Resonate missionaries who encourage and support new believers like Lupita. Please continue to pray for Lupita as she shares her powerful testimony about the God who hears prayers.
"The Lord gives me words," said Lupita. "God is using me so that several persons see the truth and learn that there is nothing more powerful than him. . . . Here in Mexico there is so much idolatry. We have to continue praying to God. I thank all who are praying for Mexico so that God takes the blinders off our eyes and we have more faith in his Word."