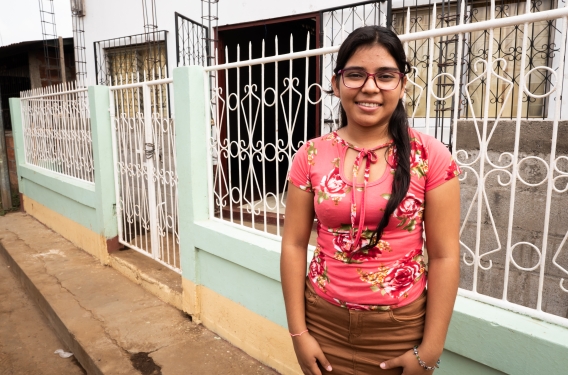 Maura was an isolated teenager who didn't take faith seriously. But then she joined an IMPACT club facilitated by the Nehemiah Center, a Resonate Global Mission partner in Nicaragua, and her life took a new direction.
An Opportunity to Grow
A Resonate initiative, IMPACT clubs equip and empower young people to be servant leaders in their communities. At each meeting, they play games, learn about faith, grow as a leader, and find creative solutions to challenges facing their communities. Any young person in elementary, middle, or high school can get involved. 
When Josselin Giras, an IMPACT club leader, personally invited Maura to an IMPACT club, Maura was intrigued.
"It was a good idea to contribute to her personal growth, to know God and to serve his community, also to meet other teenagers," said Nereyda Andino, who works with the Nehemiah Center and facilitates the IMPACT club program.
At the time, Maura didn't know how much IMPACT would change her life.
An Encouraging Atmosphere
Maura loved the atmosphere of IMPACT clubs. Focused on games and activities, it was fun to participate—and she found the lessons on leadership to be encouraging. She also found a supportive community at IMPACT club, especially in her leaders.
"She likes the support and attention that leaders give to them as members, to whom she can confidently tell them about their problems knowing that they will receive good advice," said Steve Holtrop, Resonate's regional mission leader for Central America.
"Leaders are our friends and want the best for us," said Maura.
At each IMPACT club meeting, leaders teach lessons from a biblical perspective. As weeks passed, Maura learned more about God and what it looks like to live like Christ. IMPACT leaders taught Maura how much God loves her; they encouraged her to think about the dreams God has given her for herself, her family, and her community; they inspired her to be a better person.
And one day, Maura realized she didn't want to live without God.
Accepting Christ
"I decided to accept Jesus as my Savior because I realized that, without God, I am nothing or no one," said Maura. "But in him I am sure. There is no one in the world who loves me more than him. He created me, gave me life and sustains me ... with him it is easier to face problems."
Maura is one of the 20 young people in Nicarauga who accepted Christ through an IMPACT club you help to support through Resonate. More than 120 children and teenagers in Leon and Chinendega participate in an IMPACT club facilitated by the Nehemiah Center. Give thanks for how God is working in Maura's life. Thank you for making it possible to share Christ's love with her.