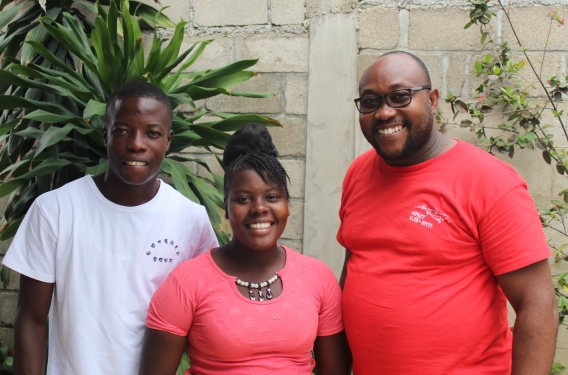 When a teenager in Degand, Haiti, saw the problems a run-down road was causing his community, he did not rely on local authorities to act. He fixed the road himself.
A section of a bustling road near Corrioland Elucson's (called Dukens) home was cracking and crumbling. Hundreds of people use the road every day—their cars and motorcycles jolting as they careen over potholes, cracks, and loose patches of pavement. The road had been falling apart for months, and local authorities had not stepped in to repair it.
"One day, I saw someone who was sick," said Dukens. "When they brought the sick person on a motorcycle, the motorcycle had an accident on this area of the road and everyone fell on the ground."
"This," he added, "inspired me to act to fix the road."
Dukens is one of the many youth in Haiti who participate in an IMPACT club. A Resonate Global Mission initiative, IMPACT clubs equip and empower young people to transform their communities so they are more prepared to be involved in the community as an adult.
But IMPACT clubs do not just prepare youth to be leaders of the future—the clubs also recognize the potential and ability for young people to lead and make a difference in their community right now.
During an IMPACT club meeting one day, Dukens and the other young people discussed a lesson called "Me, Facing My Community." They explored ways each one of them could pinpoint challenges in their communities and find ways to overcome them.
"I saw the road was in bad condition, and there was no one to make it better," said Dukens.
When he saw the motorcycle accident, he knew his community could no longer wait for local authorities to fix the road—they might never come. So, Dukens took the repairs upon himself. He spent several days removing the loose concrete and filling the cracks and potholes so people could travel more easily.
"As a responsible and engaged citizen, he decided to act and make a difference," said Tazile Vital-Herne, an IMPACT club coach. "What is most heartwarming: this young man did not ask nor receive money for what he has done for the community … the only thing he received was some water to drink while he was doing this work."
Young people like Dukens making a difference is their communities is the reason Resonate supports IMPACT clubs. Thank you for equipping and empowering youth in Haiti and around the world. "IMPACT has done many things for me, and it allows me to do many things," said Dukens. "It is a privilege to be in the club."