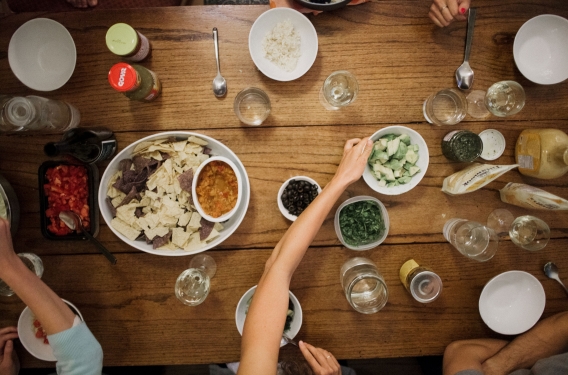 We want to be like Jesus, sharing God's goodness, grace, and love with others, but no ministry on earth compares to Jesus' ability to minister with people who are hurting, broken, or lost. Jesus calmed storms, gave sight to people who were blind, and raised the dead. What can we do?
In the New Testament, the Greek words for "ministry," "minister," and "to minister" are diakonia (table service), diakonos (table server), and diakoneo (to serve). Jesus' ministry is full of wonder, but is it any less remarkable that among the miracles and parables of Jesus, our Lord also joined people for many meals?
In doing so, he invited people into relationship with him. He invited people into friendship. Into holy communion.
Resonate Global Mission campus ministers, church planters, missionaries, and other ministry leaders practice hospitality often—following a framework of table sitting, table setting, and table serving. While ministry leaders pursue distinct calls into ministry, all Christians are called to share God's love with others.
If we are to follow Jesus' example, hospitality plays an important role. Hospitality is not only about giving; it is also about receiving. Hospitality is more than setting and serving a table; it is also sitting at a table. It is more than inviting others in; it is opening ourselves up.
Table Sitting
"I once heard someone describe how we are all like Lego blocks with eight bumps," said Martin Benckhuysen, pastor of Kelloggsville Christian Reformed Church in Kentwood, Mich.
"We have room for about eight relationships, but then we are full. If that is the case, then hospitality comes down to this openness of saying to the other: I will make room in my life for you."
Benckhuysen and his congregation are learning how they can better point others to Christ. They are studying Michael Frost's Surprise the World: Five Habits of Highly Missional People. "It is an invitation to be learning and practicing habits—not creating new programs—so that we can be propelled outward and build relationships that 'surprise the world' around us," said Benckhuysen. "Being missional then is not an act, but a habit."
One of the missional habits Frost lists in his book is eating with others, specifically with individuals who are not members of the church. So, when a member of Benckhuysen's congregation gifted him two frozen fillets of lake trout, Benckhuysen invited his neighbor over for a meal.
He and his wife ended up being the guests instead.
When Benckhuysen mentioned he had never prepared fish before, his neighbor offered to cook the trout. When the day of the meal came, Benckhuysen and his wife cleaned the house, prepared side dishes, and set the table.
"But as we were approaching dinner time, getting ready to welcome them into our home, we found out our neighbors had done the same thing as us," he said.
Instead of having their neighbors over for dinner as Benckhuysen and his wife had planned, they brought the food they had prepared over and were welcomed into their neighbors' home. That's why, Benckhuysen noted, hospitality involves not just knowing how to give well, but how to receive well.
"Embrace unknown expectations, unknown customs, and relinquish any sense of control," he said. "We cannot receive hospitality with openness while judging the lifestyle, food, drink, or home provided by the host."
Before the meal, Benckhuysen and his neighbors had been friendly—they chatted over the fence while tending their gardens and enjoyed casual backyard hangouts.
"But being friendly is different than building relationships," he said. "It really comes down to our willingness to open our lives to a relationship with the other. And in healthy relationships, giving goes both ways."
"That is probably the heart of sharing a meal," he added. "If done well and with proper motives, it shows openness to receive the other person into your home, but I think more significantly into your life."
Table Setting
"An invitation tells us we are thought about, remembered, considered," said Chris Van Zanen, a Resonate missionary.
Chris and her husband, Steve, serve as professors at LCC International University in Lithuania. Nearly every week, they invite students from their classes over to their apartment for a meal or dessert. LCC is a Christian university, but many students are not Christians or only identify as Christians by name. They come from many nations across Eastern Europe and beyond. Inviting students into their home is one way Chris and Steve invite them into community—not just with one another, but with God.
"They are usually very appreciative," said Steve. "Sharing food is important, but opening our home to them is completely out of the ordinary. There is something almost sacred about sharing food and your place with others. People tend to meet in restaurants rather than in homes. I think that bucking that trend and gathering at home with others speaks powerfully of the value placed on the person and the relationship."
This past year, one of Chris and Steve's students was baptized. She came to faith after multiple invitations into LCC's community, where she learned more and more about God's grace.
"I often ask students who are new Christians, 'How did you come to a living faith in Jesus?'" Chris said. "Often the reply begins with, 'I was invited'—to chapel, to dinner, to a Bible study, to have coffee—'and I learned about Jesus.' 'How long did it take you to make a decision to believe?' I ask. 'Oh, a long time,' the student responds. It took multiple invitations."
That is not unlike our own relationships with God.
"At worship time, I have noticed an invitation to worship through Scripture, song, or statement," said Chris. "We are invited. 'Come, now is the time worship,' we sing. We have put this time into our calendar, we come with expectation, often wearing special clothes, coming with gifts of offering, meeting with friends and family, hopefully coming away feeling met by God and glad to have been there."
Table Serving
It was the first week of school at Mount Royal University in Calgary, Alta. A freshman was wandering the halls alone, her syllabi loaded with projects and assignments. She was adjusting to a new, busy schedule, and she was wondering when the people she met would become friends.
She had been excited about the year ahead, but now she couldn't stop the doubt intruding into her mind about whether she belonged there.
And then she heard it: the tea trolley.
"They've made the floors out of bricks," said Jacqui Mignault, campus minister for Resonate partner Calgary Campus Ministry. "If you push anything down the halls, it is the loudest, clunkiest sound . . . you can hearing me coming half a mile away."
That didn't stop Jacqui. She plastered a sign that read "You belong" onto a cart and stocked it with tea, candy, and water bottles. She ventured out into the halls to welcome students to campus and serve them.
"Those first couple weeks are so overwhelming," she said. "On campus, there's a ton of things to do, things to be part of, where students can put their time. And that's not bad, but there are very few spaces where students are not required to give anything back. Where  they are just allowed to be and receive. That's one of the things I strive to be for them."
Pushing the tea trolley cart around the brick hallways of Mount Royal University was awkward. Clumsy. The tea dispenser leaked. There was no promise or guarantee of students committing their time to the campus ministry. But it was important to Jacqui to serve the students.
"People don't need candy to know that they belong," she said. "They do need human interaction."
Perhaps that is why God sent Jesus to live among us. Why Jesus ate with us, drank with us, and spent time with us.
"I am becoming more and more convinced that hospitality is key to all ministry," said Chris. "When [students] are together in our home, eating together, God is here—and healing and understanding begin to take seed."
Hospitality is about making room—not just at the table, but in life—and inviting people in. The family who lives next door. The students in the hallways and classrooms. The people who might not know they're looking for God's grace until they're sitting at the table.
"For I was hungry and you gave me something to eat," Jesus said in Matthew 25:35. "I was thirsty and you gave me something to drink, I was a stranger and you invited me in."
This article was originally published by The Banner.