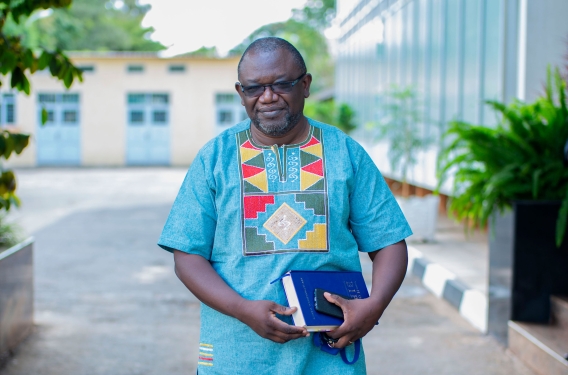 After the 1994 genocide in Rwanda, Joseph Nyamutera found a way forward through Healing Hearts, Transforming Nations. Now, he's working with Resonate to bring this ministry to the United States.
Joseph Nyamutera was a Hutu living in Rwanda in the wake of the 1994 genocide.
"What I saw around me was despair and anger and bitterness in the church and outside the church," said Joseph.
The program Healing Hearts, Transforming Nations helped Nyamutera and thousands of people in his country heal from the wounds of the genocide, forgive, and reconcile with one another. This ministry has now spread to countries throughout the world where people are experiencing conflict and tension over race, ethnicity, politics, and more.
Resonate Global Mission missionary George de Vuyst has been leading this ministry in Ukraine for the past six years, and has seen God heal people and reconcile communities.
Now, George, Joseph, and their team are bringing this ministry to the United States.
Healing from Genocide
It was 1996, two years after the genocide in which members of the Hutu ethnic majority group murdered hundreds of thousands of people—mostly members of the Tutsi minority, but also moderate Hutus and Twa who opposed the killings or tried to help the Tutsi. Joseph had returned to Rwanda after spending the past few years living in a refugee camp in the Democratic Republic of Congo, where he lost his father, son, and sister. And now, back in Rwanda, Joseph struggled with his Hutu identity. He did not have any personal involvement in the genocide, but he said he felt ashamed being Hutu. It was as if he felt responsible for the actions of other members of his people group.
In difficult times, many Christians find hope in faith. Believers are able to seek healing from pain and trauma, and search for answers to conflict and division, through prayer and God's Word—but it isn't always easy. Joseph's relationship with God was weak and broken.
"I was in a crisis of faith," he said. "Everything I knew about the Bible [at the time] was not helpful."
But then, shortly after returning to Rwanda, Joseph was invited to participate in the Healing Hearts, Transforming Nations ministry.
Healing Hearts, Transforming Nations was started by Dr. Rhiannon Lloyd in the aftermath of the Rwandan genocide to help people begin to heal from wounds—not only personal wounds, but also wounds that cause conflict and division in communities. Finding healing for personal wounds helps people be able to overcome divisions within their families, neighborhoods, churches, workplaces, and other communities and reconcile with one another.
"Before we can be reconciled, we need to address our pain," said George.
Over the course of a few days, Joseph gathered in a church building with both Hutus and Tutsis. There were people whose family members had shed blood and people who had lost loved ones.
"It was the first time I heard people talking about the genocide, Tutsi and Hutu together," said Joseph.
Dr. Lloyd led the group through a step-by-step process where they were first able to address personal wounds they have experienced in their life. These wounds may be from a broken relationship with a parent, a slight from a friend or neighbor, or something else. As the ministry continued, they were able to address wounds from the genocide and other pain they experienced while living in community. Joseph discovered that through Scripture and prayer, God had something to say about the pain he, his family, his church, and his country experienced.
"I found healing in that workshop. This is where I took all my pain to Jesus, and my anger and bitterness," said Joseph. "There was so much change after this. I started to have hope for myself, for my family, my country, and also hope for the church. That God had something for even our situation."
Hope for the Nations
Healing Hearts, Transforming Nations completely changed the trajectory of Joseph's life. The first change he noticed was within himself and how he interacted with his family. He also found confidence in his Hutu identity and as a child of God.
"Yes I am Hutu, but I am not genocide," he said. "I cannot deny my identity, but from that time, there was this kind of confidence in me."
Joseph also saw Hutus and Tutsis genuinely apologize and forgive one another. He knew he finally had a tool he could use to help churches address the genocide and work toward reconciliation.
Eventually, Dr. Lloyd asked Joseph to join the team facilitating these workshops. Joseph has been facilitating Healing Hearts, Transforming Nations workshops for more than 20 years through two different organizations, and then eventually founded Rabagirana Ministries in Rwanda.
"With the training we started to see church leaders be relevant and minister to their own churches but also to their communities," said Joseph. "They could now speak, from the Bible from the pulpit, to people in a way that was relevant to what they were going through."
From Rwanda to the United States
The process of Healing Hearts, Transforming Nations extends beyond the Rwandan genocide. It is also helpful for reconciling divisions in other countries throughout the world, including conflict between Ukrainians and Russians, the Welsh and English in the United Kingdom, and between political parties in Côte d'Ivoire (Ivory Coast) and Kenya. Joseph has facilitated workshops in many countries, and now, he'll be working with George, Dr. Lloyd, and their team to introduce the ministry in the United States.
"Many people had so much compassion for Rwanda after the genocide, and many people looked at Rwanda as a unique case," said Joseph. "Later we realized that some of the issues that led to the genocide are found in many different communities, including in the United States."
Genocide is extreme, Joseph noted, and he does not believe that the United States is on the cusp of genocide. He does, however, see tension among people in churches and communities over race, ethnicity, age, politics, and more.
"How can the church be a channel of togetherness, of harmony, of reconciliation?" he said.
The Healing Hearts, Transforming Nations immersion workshop is a tool for believers to use in overcoming conflict that causes division in churches and communities.
"One thing is that we desire to see hope," said Joseph. "We also want to see Christians taking responsibility … and doing something to be part of the solution.
Healing Hearts, Transforming Nations is offering four immersion workshops in four different locations throughout the United States. Learn more and apply to join at www.resonateglobalmission.org/hhtn