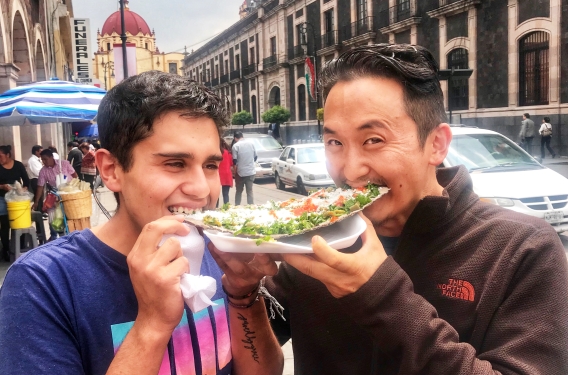 Fernando grew up in Querétaro, Mexico, where he was raised to practice a "fusion faith" of Roman Catholicism and ancient Aztec beliefs. When he started university, he began searching for the truth.
Fernando got involved in Compañerismo Estudiantiles A.C. (Compa), a local campus ministry program. In fusion faith, people take pieces and ideas from various religions that fit their own ideas. Compa set Fernando on course with Christ.
But Fernando was still surrounded by the familiar mix of faith and ideals on campus, making him uneasy. He wanted to commit to true Christianity, but the path forward was not always clear.
"I get bombarded by Roman Catholic syncretism 'fusion' at my school," Fernando said to James Lee, a Resonate Global Mission missionary. A local leader asked James to disciple young men in the Compa program. Lee began to walk alongside Fernando, encouraging him and helping him work through his spiritual troubles. "To be a true Christian in the university and also in society is to embrace the cost of discipleship," said Fernando. "It is not easy to follow Jesus, but nothing is impossible to God."
Finding support in Lee and Compa, Fernando realized he didn't have to wait until graduation to start living out his faith by serving God and his people. He could start serving right away.
Fernando wanted to pass on the torch Lee lit for him as a disciple. He wanted others to know the truth of Christianity, too. So, he approached many of his classmates and asked if they had questions about life or religion and invited them to a Bible study.
One of the students he asked, Oscar, was looking to grow in faith. Like Fernando, Oscar had begun to question his fusion faith. Fernando and Oscar meet every week to discuss the Bible, using questions Fernando prepared with James' help.
"I have seen the growth of Fernando's commitment to God every week as he prepares the weekly Bible study with me and shares the good news at his campus," said James.
Fernando and Oscar have become close friends. The two have found truth and encouragement by studying the Bible with one another, and they teach each other how to remain true to their faith while walking through a campus full of differing religious values.
Thank you for supporting Resonate and helping to connect people who strengthen one another's faith in God by discipling one another.
A version of this story was previously published by The Banner.