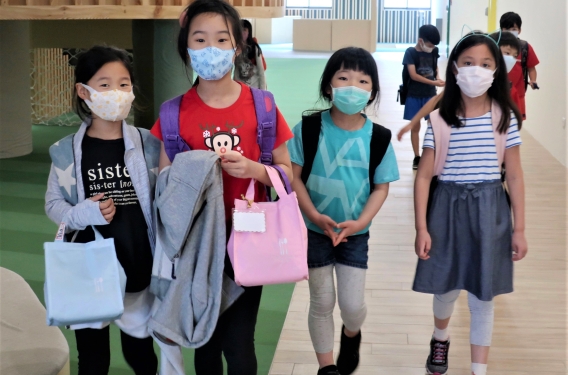 Taiwan is located near the initial outbreak of the coronavirus pandemic, but life and ministry continues for Resonate Global Mission missionaries Brian and Bette Vander Haak—with a few precautions.
The Initial Outbreak
The Vander Haaks serve with Morrison Academy, a Resonate partner in Taiwan that provides Christian education for children of missionaries and other international workers. 
"Initially, we were projected by reputable models to become the second-worst spot on the planet," said Brian and Bette. "The initial outbreak came at what should have been ideal conditions for spreading the virus."
The couple noted that news of the outbreak hit around Chinese New Year in late January, a time when many people are traveling between Taiwan and China to visit and celebrate with family. But as soon as the government in Taiwan heard about the outbreak in China, they restricted flights, screened airline passengers, and enforced quarantine—and Morrison Academy took classes online.
As of May 29, Taiwan has reported fewer cases of COVID-19 compared to other countries: 442 cases and 7 deaths. And now, after two separate brief times of online learning, Brian and Bette are back in the classroom with their students—and hopefully for good.
Back in the Classroom
While Morrison Academy's students, staff, and faculty are back on campus, they're taking precautions. Students and staff are required to wear masks at all times, and they are conscious about keeping space between students.
But life still looks very different for Brian, Bette, and their students. Out in public, people must constantly wash their hands and get their temperatures checked before entering a building, and there are sneeze shields and markers on the ground to help people keep their distance from one another. Students at Morrison Academy are feeling the same stress, anxiety, and fear that many students in Canada and the United States are feeling.
In response, Brian, Bette, and Morrison Academy staff have had the opportunity to share the truth of the gospel. It's an opportunity to help students who are Christians deepen their relationships with Christ.
And even though Morrison Academy is a Christian school, not all students come from Christian families. Brian, Bette, and other staff members have been able to share the hope and peace of Christ in the classroom everyday.
Sharing the Gospel
"Some students are allowing themselves to be more vulnerable and open," said the Vander Haaks. "Conversations quickly take on a more meaningful aspect."
Brian and Bette have especially seen a difference in students' behavior during chapel. On an average school day before the coronavirus pandemic, some students struggled to pay attention in chapel. Now, many of these students are more attentive. During a staff member's lesson on fear, students sat quietly with their eyes on the speaker.
"Please join us in praying that this, too, will be used by [God] to open the hearts of those we love and work with to the gospel," said Brian and Bette.
Pray
Give thanks that Morrison Academy has been able to return to learn in the classrooms! Please pray for the health and safety of students and staff.
Pray for students who may be struggling with fear, anxiety, and stress during the coronavirus pandemic. Ask God to comfort them. Pray for wisdom and guidance for Bette, Brian, and other faculty and staff—that they would know how to support students.
Please pray for students and their families who are not yet Christians. Ask the Holy Spirit to open their hearts to the gospel.