God calls believers to live together in unity
But sometimes conflict causes pain and drives communities apart. Healing and reconciliation will take decades of hard work—but for some believers, the path to healing starts with just a few days at a workshop. Originating out of the ethnic conflicts in Rwanda, Healing Hearts, Transforming Nations, was founded by Dr. Rhiannon Lloyd. Resonate ministry leaders have been leading workshops since 2015. As word spread about this ministry, Resonate brought the training to new places like Ukraine, Lithuania, the United States, and Wales. 
People throughout the world are witnessing God's amazing power to heal, forgive, and reconcile communities. While many people who attend the workshop are Christians and ministry leaders, the workshops are also open to people who do not yet know Jesus. Wrestling with their pain at the workshop, they're introduced to God's love and invited to find healing in Christ.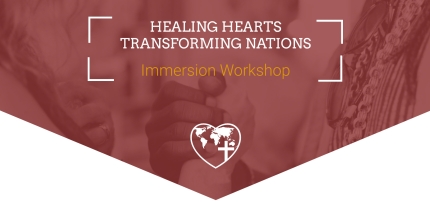 "God, do you have any hope?"
This question was asked by the founder of Healing Hearts, Transforming Nations (HHTN) as she approached Kigali, Rwanda just 12 weeks after the end of the horrific Rwandan genocide against the Tutsis in 1994. This was the beginning of a journey that led to the creation of the HHTN healing and reconciliation process. Today millions of lives have been changed by a fresh encounter with Jesus at the foot of his cross.
God's answer to the question was found in Romans 15:13 – hope is God's name! And the cross is where we find healing and reconciliation with God and each other. It's the source of our hope. Jesus bore our sin and our pain on the cross, providing everything that we need to be healed of the wounds we have received in life, to find the power to forgive those who have wounded us, and the strength to repent to those we have wounded.
The HHTN immersive workshop has now come to North America as well. Here we could ask the same question – God, do you have any hope? Do you have any hope for race relations? Do you have any hope for reconciliation between the indigenous peoples you placed here and the settlers who took their land, lives, and dignity? Is there hope for reconciliation after genocide?
God is the God of hope for us here in North America as well.
You are invited to participate in a 3-day, 4-night immersive workshop and to experience a fresh encounter with Jesus at the cross.
Experienced ministry leaders will guide you through a process of recognizing wounds in your own life and in the life of your people, so that you can leave your pain and the pain of your people at the cross and begin to heal.
Share with and hear from people from a variety of backgrounds: culturally, racially, politically, and more.
Learn from respected ministry leaders with years of experience in reconciliation work on how to approach the work of reconciliation in your family, church, and community.

HHTN Immersion Workshops
Lodging & meals included in the rate.