Become a Leader
Global Coffee Break leaders are believers who love to serve and grow with others. We provide leaders with excellent tools and training to help others discover Jesus through his Word.
Leader Guides provide extra questions, study assistance, and facilitation tips to help build conversations.
Interactive Training is available through Discover Your Bible leadership tools which provide ongoing leadership development resources. Available by membership.
Personalized Coaching is available through coaching clusters for program directors and leaders. These groups meet over the phone for problem-solving, support, and accountability 6-10 times yearly.
In-Person Training Workshops are available for group leaders. The workshops are hosted by churches with 3-8 hour event options available.
How is this Leadership Style Unique?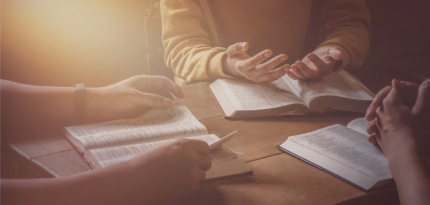 Leaders prayerfully guide the conversation, rather than teach a lesson, and pay careful attention to the needs and dynamics of the group.
The Word does the work! Our framework allows God's Word, with the help of the Holy Spirit, to be the teacher.
The discovery method includes thinking, feeling, and experiencing the Bible in context—"putting on the shoes" of the people in the story and the original intended audience.
Example Discovery Method Questions:

Clarifying: "Does everyone know who we are talking about here?"
Probing: "What do you mean by that?"
Drawing Out: "What else can you tell us about that?"
Affirmation: "That's an excellent observation."
Hearing Hearts: "It sounds like you're drawn to know/trust/believe what Jesus is talking about here."
Guiding: "How is God reaching out to his people here?"
Request Training Information