"In a campus ministry field, you realize a lot of people know that they're Christian but really aren't able to articulate what they believe, let alone share it," said Calvin Chen, a Resonate Global Mission campus minister.
"You need to know your faith to be able to share it," he said.
Calvin is a CRC minister working with Graduate Christian Fellowship at the University of Washington and Church on The Ave, two Resonate partners in Seattle. In the campus ministry and church plant, Calvin and his co-pastors meet students who have questions about faith. Some are new to Christianity; some have been Christians for a long time.
A lot of students hold their faith close—but they're at a loss for words when sharing why they believe what they believe. If someone asked why it's important to repent of sin, or to be baptized, they aren't quite sure what to say.
That's why the pastors started a discipleship group called Christian Essentials. Each week, small groups of students meet with Calvin and discuss foundational aspects of their Christian faith so they can better understand it—and talk about it, if someone asks.
"I've always believed in God, so I always wanted to find 'my' church and learn about Christianity more when I moved to the U.S.," said Molly*, a student from GCF who joined a discipleship group this year.
Ken*, another student, grew up as an atheist. He joined because he wanted to better understand the foundations of his faith and to seek God more throughout each day. 
Ken and Molly, like most of the students who join a discipleship group year after year, are graduate students. A few of the students meeting with Calvin are working toward their PhDs or master's degree in computational linguistics, mechanical engineering, and materials science.
"They tend to use really technical and 'science-y' language to understand theological concepts," said Calvin. "One moment I'll mention a theological concept and they'll suddenly use data-set language to grasp it … it's challenging and fun to do discipleship with such intelligent students who think seriously through the lens of their academic disciplines."
And even as the coronavirus has caused churches and campus ministries throughout the world to cancel in-person gatherings, the discipleship group continues to meet through video call. Seattle claimed the first known case of COVID-19 in the United States, and the University of Washington quickly moved classes online. The discipleship group moved online just as seamlessly.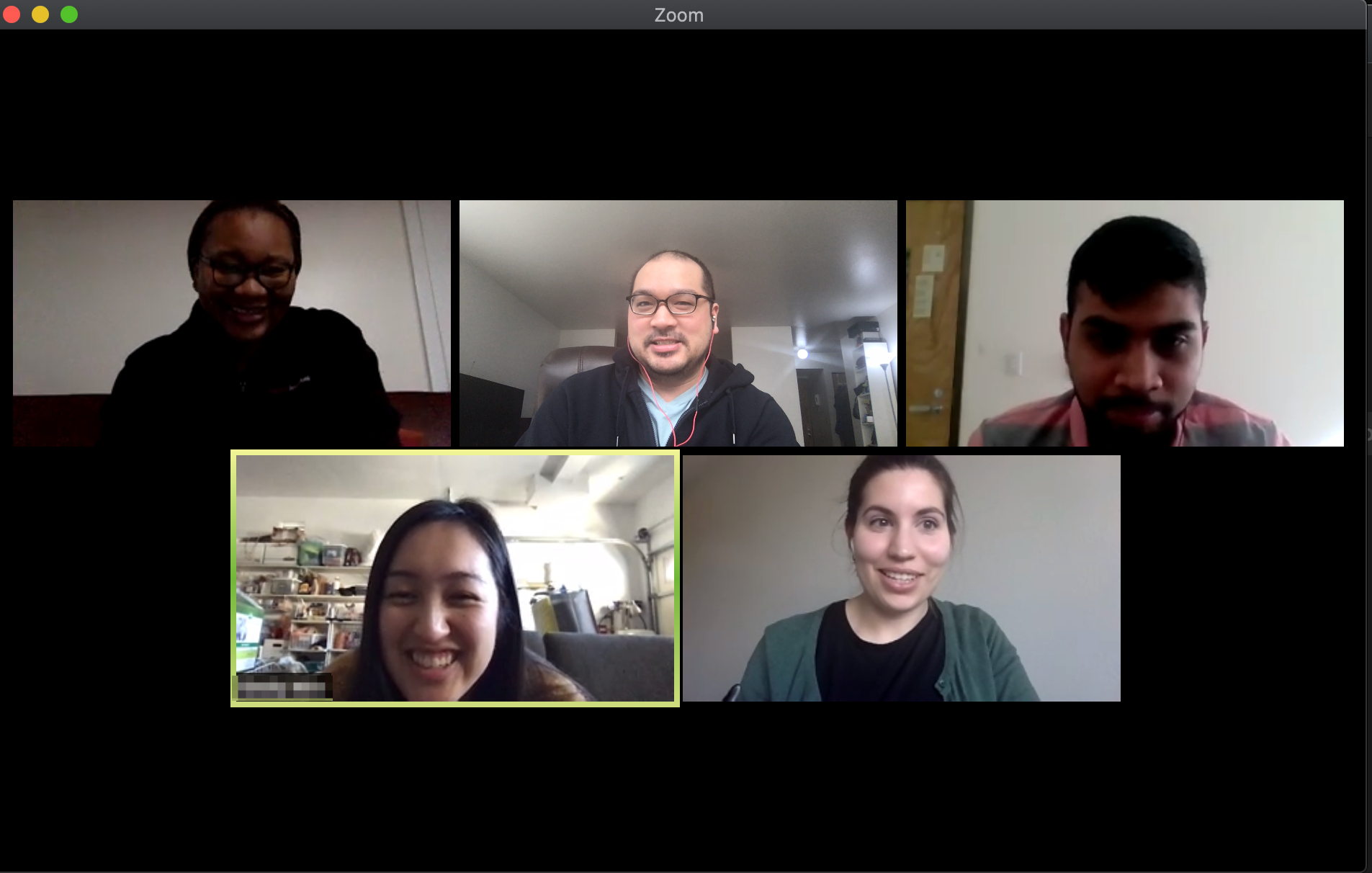 The discipleship group took a week off—one of the students moving back home with family, the others remaining in Seattle—and then continued meeting at the same time each week. Calvin said the group helps provide some normalcy and connection in a time where many students are lonely and struggling with a lot of uncertainty about their studies and the future.
"After we took that week off and met on Zoom, people were excited to see each other," said Calvin. "It took us 15 minutes to get started that week because people were busy catching up … even during finals week, they wanted to keep meeting."
Throughout the weeks of thoughtful discussions, students have noticed a difference in the way they understand faith and relate to God.
"[I've] started to think about God more often in daily life," said Molly. 
Ken said that the campus ministry and discipleship group have provided a community where he feels safe discussing Scripture and the challenges of living out faith.
"Christian Essentials has strengthened my understanding of the Bible, and pointed me to the continuous work that God has been doing to bring us back to him," said Ken. "I have been encouraged many times … the community has really challenged me to not only think of Christ during church activities, but also living it out every day."
Thank you for supporting campus ministries like GCF through Resonate! Discipleship is an important part of Resonate's ministry throughout the world. As believers grow and have a better grasp on their faith, they're better able to share the gospel with friends and neighbors—and to answer questions when people are curious.
"As students are growing intellectually and professionally in the classroom, it's important that they also grow in understanding their faith," said Calvin.
*Names changed for privacy
Partner Campus Ministry:
Graduate Christian Fellowship at the University of Washington