The Christian Reformed Church in North America started as an immigrant congregation, but immigration isn't only part of our history—it's still part of our story today.
Historically, many members of the CRC came from the Netherlands. While many members are still from Dutch backgrounds, the denomination is becoming increasingly diverse and multicultural. Today, people from a variety of cultures and countries are resonating with the Reformed expression of faith and finding a home in the CRC.
And it's through newcomers that we're seeing much of the growth in our denomination through evangelism, said Amy Schenkel, a Resonate Global Mission regional mission leader.
"That's where there are the most baptisms; that's where there are the most new people coming to faith," said Amy. "We are growing and the Spirit is moving."
And Resonate is here to help the CRC join God at work.
A Warm Welcome
Membership at Willowdale CRC in Toronto, Ontario, was gradually declining—but then Nasser Zand and Sylvie Charliekaram showed up. In just a few short years, Willowdale CRC has grown. The church baptized 22 new Christians on one Sunday earlier this year. A few weeks before that, they baptized 18. 
"When Sylvie and Nasser arrived, they were the first Farsi-speaking folks in our congregation. Currently, when you come on a Sunday morning, about half of the congregation is Farsi-speaking," said John Meiboom, a member of Willowdale CRC.
 
Sylvie Charliekaram and Nasser Zand

Nasser and Sylvie moved to Toronto from Iran in 2005. Sylvie grew up attending church as a Christian. Nasser was raised to practice Islam but started attending Sylvie's home church as a teenager. He was inspired by Christ's love and gave his life to Jesus.
Eventually, Nasser and Sylvie married. The two were dedicated to their church's ministry—but like many Christians in Iran, there came a time when they didn't feel safe in their country anymore.
"In Iran, as a converted Christian, your life is somehow always in danger and you receive a lot of threats," said Sylvie.
It was a difficult decision, but the couple prayed about moving to another country, and God opened doors to Toronto. More than a decade after moving to the city, they found Willowdale CRC.
"We were welcomed warmly," said Sylvie. "It reminded me of my church back home. I started crying and I told Nasser, 'This is where I want to be. This is where I want to worship.' And so we stayed and it became our home."
A Growing Congregation
Today, Nasser and Sylvie are not the only Farsi-speakers to call Willowdale CRC home. The couple has hundreds of connections with Farsi-speakers through Spiritual Growth Ministry (SGM), a ministry they co-founded that provides biblical teaching in Farsi through online platforms—especially for new believers from a Muslim background in both the Greater Toronto Area and around the globe.
Through SGM, Nasser and Sylvie have formed connections with Farsi-speakers throughout the world. Some of those speakers have moved to Toronto—in some cases, specifically because they've met Nasser and Sylvie through SGM. The couple invites newcomers to Willowdale CRC, and the congregation warmly welcomes them. 
"They're thirsty and hungry to learn," said Sylvie. "They want to belong to the family of God."
Today, nearly half of Willowdale CRC's congregation speaks Farsi, and the church has adapted. Nasser and Sylvie serve as elders, the church hosts a weekly bible study for Farsi-speakers, and the Sunday worship service is a mix between English and Farsi.
Through Sylvie, Nasser, and SGM, God opened a new ministry opportunity for Willowdale CRC—though it's not without challenges.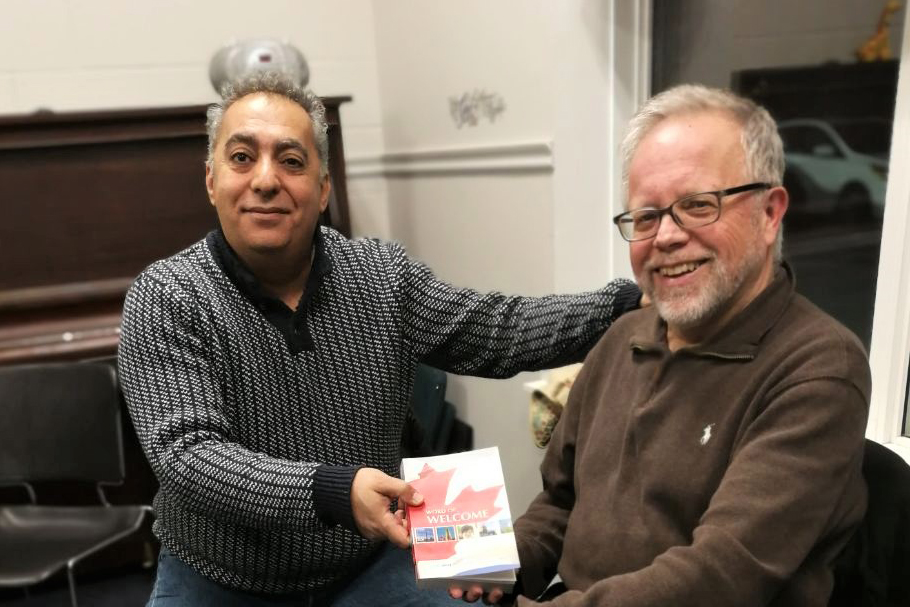 Nasser Zand and John Meiboom of Willowdale CRC in Toronto, Ontario.
Navigating New Ministry Opportunities
"There's an opportunity here for all of us as Christians to grow in our faith as we learn to disciple new Christians, as we learn to share the gospel with those who are seeking," said John, who serves on the Board of SGM.
As they embraced this ministry and welcomed more Farsi-speakers into their congregation, the congregation sought support from Resonate, the CRC's mission agency. Resonate exists to walk alongside CRC congregations as they join God in mission. While Resonate supports many church plants serving newcomers, Resonate also works with established CRC congregations, such as Willowdale CRC, who are welcoming newcomers into their congregations.
Willowdale CRC, Spiritual Growth Ministries, and Resonate formed a partnership that provides Willowdale CRC and SGM access to funding, training, and guidance from Resonate ministry leaders. Last year, Nasser, Sylvie, John and Henry Eyenraam, chair of the Willowdale CRC council, participated in Resonate's Journeying into Friendships consultation with other ministry leaders who work with people from a variety of faiths. 
"We're asking all the time, how can we help them minister better?" said Beth Fellinger, Resonate's regional mission leader for Eastern Canada. "If they need something specifically, or if there's a program that will help their ministry, can we put that in their hands?"
The partnership is one way Resonate works with CRC congregations to spread the gospel, disciple believers, and equip leaders throughout the world.
"I prayed to be used by my Lord in every shape and form," said Sylvie. "I feel joining Resonate as a partner is an answer to my prayers as well … how can we work together to better serve Farsi-speaking Christians?"
A version of this story was originally published by The Banner.