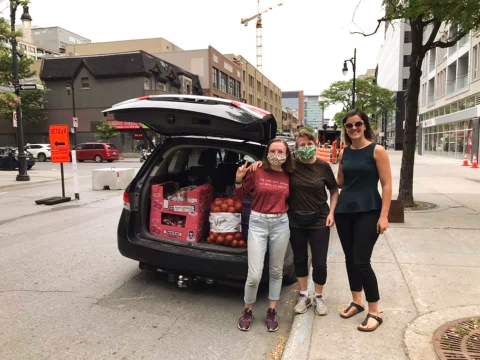 Mission Montréal, a Resonate Global Mission partner, is meeting needs in the city during the coronavirus pandemic by packing and delivering food baskets—and it's taking a network to make it possible.
Feeling Anxious and Alone
When the coronavirus hit, universities in Montréal shut down and university students found themselves facing a lot of challenges—especially international students.
"They were living with a lot of stress and anxiety and were very isolated," said Jacynthe Vaillancourt, who leads campus ministry for Mission Montréal.
Students living in residential halls were asked to move out as soon as possible and had to scramble to find affordable places to live. If they had nowhere else to go, they were allowed to stay in the residential halls—but students also lost all the services and resources that the university usually provides for them.
A lot of international students travel to Canada on student visas and aren't able to legally work. Even if they could, jobs were hard to find as unemployment skyrocketed. And with borders closed, they couldn't return home to their families. They were stuck—and many without a community they could turn to for support.
That's where Mission Montréal stepped in.
Addressing Food Security
Mission Montréal—a collaborative effort of Resonate, Diaconal Ministries Canada, First CRC Montréal, Classis Eastern Canada, and Christian Direction—is a network that brings together ministries, churches, non-profits, and other organizations within the city. 
When COVID-19 hit, Christians in the community were anxious to help with food security; Concordia Food Coalition at Concordia University was trying to help students, but couldn't do it alone. They contacted Mission Montréal.
"We started making food baskets for students," said Jacynthe.
It would've been a daunting project for just one church or ministry—and that's why Resonate's work developing holistic mission networks is so important. Because Mission Montréal is a network of people and organizations working together, they are able to meet more needs in the community and reach more people.
Working with nonprofits, churches, and campus ministries, Mission Montréal has been able to provide about 300 food baskets each week packed with fruits, vegetables, grains, tomato sauce, pasta, and eggs. 
And university students aren't the only ones receiving food baskets; the initiative has reached families and senior citizens too. A few campus ministry students have also been able to offer encouragement and a listening ear by calling people to check in with them—to ask them how they're doing, check if they need a food basket that week, or see if there's anything else they might need.
Mission Montréal has also hired one of the student volunteers to work on projects during the summer, until classes resume.
"We saw his leadership and heart," said Jacynthe.
Networks Are Important
"It's been incredible to see both students and churches get together and respond to the need in their neighborhood," said Jacynthe. 
Jacynthe said that students connecting with their neighborhood has always been a priority of campus ministry through Mission Montréal. "We focus on engagement … how to be a student living in the neighborhood and reaching out to your neighbors," she said. "I was so impressed that they dropped everything and came to give a hand."
People have been appreciative of the food baskets and receiving calls from students. In a season of a lot of stress, anxiety, and uncertainty, Mission Montréal has been able to provide support while meeting basic needs.
Thank you for supporting Resonate partners like Mission Montréal! As individuals, non-profits, churches, and other ministries work together, we're able to do more for God's kingdom—in this case, by providing food for students, families, and individuals who were in need.
"We've always valued working in partnerships, to build each other's capacity," said Jacynthe. "Everyone brings something different to the table."