The coronavirus pandemic made it difficult for churches to host Advent and Christmas gatherings, but because of your support, two church plants were able to connect with new people in their communities and share the hope of the gospel with them.
Community Engagement grants from Resonate Global Mission helped make it possible for Bridge Church in Fort Saskatchewan, Alberta, and The Caledonia Gathering in Caledonia, Michigan, to host creative and safe worship services in the midst of COVID-19. Unique to each church plant's context, these two events were so different from the other—but both worship gatherings provided an opportunity for people to connect with a faith community and learn more about God's hope, love, and grace.
A Christmas Eve Drive-In Worship Service
In March 2020, at the start of the COVID-19 outbreak in Canada and the United States, you helped make it possible for Bridge Church to host an Easter Drive-In worship service that more than 800 people attended. The church plant decided they couldn't miss the opportunity to reach people on Christmas Eve.
But the idea wasn't originally on their radar, and it almost didn't happen.
"What was amazing to me was how God inspired our volunteers at Bridge Church to make it happen," said Pastor Ryan Pedde. "We prayed together for four days to seek God and see if we should do it. Every person knew the time and effort it would take."
In the end, the team pulled it off with less than 10 days notice.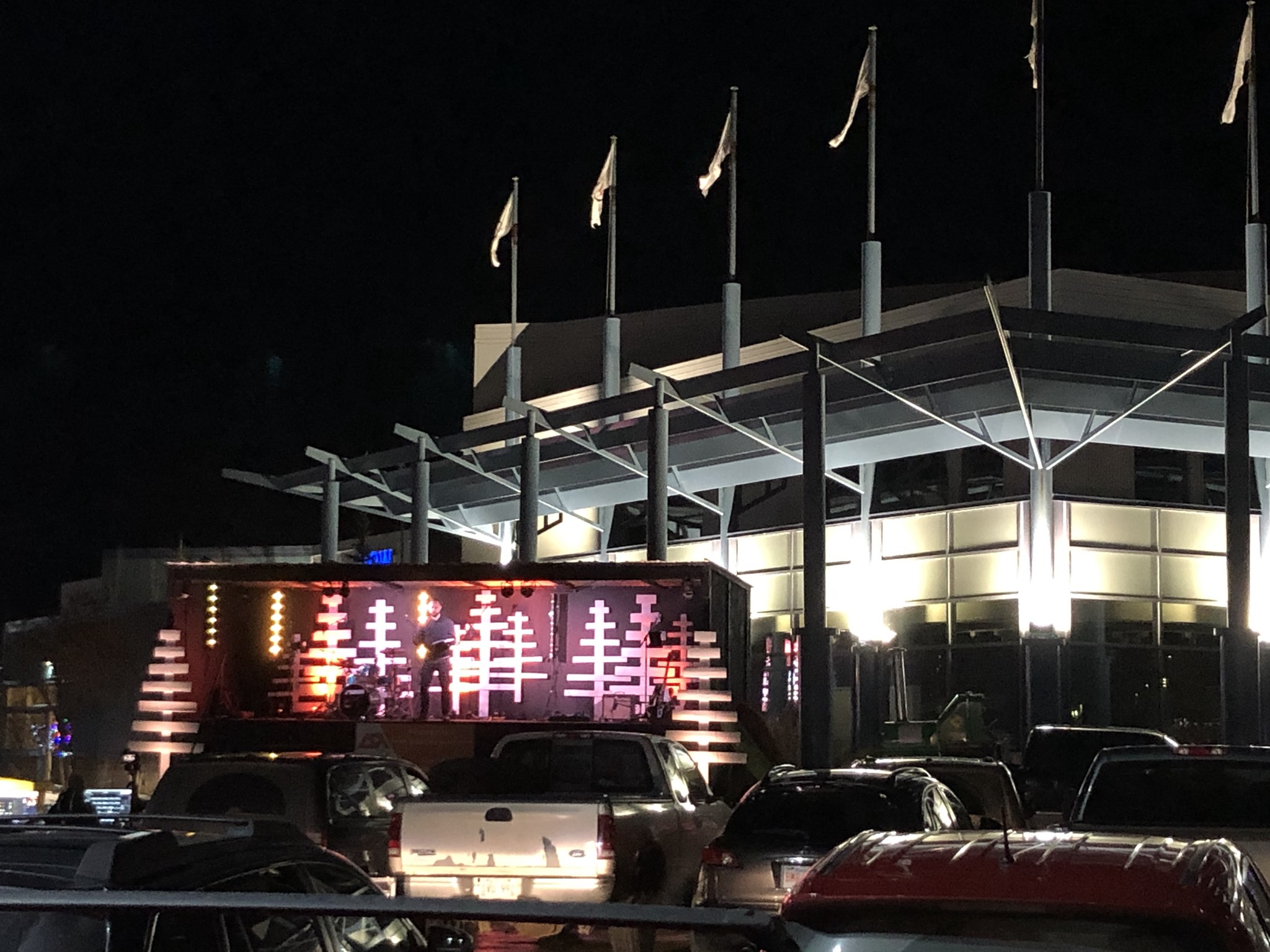 They held the worship service in the parking lot of a community center so people could drive in, tune in through the radio, and worship from the safety of their cars. You helped make it possible through a community engagement grant from Resonate. Your support helped cover the cost of the venue, advertising, sound, and television screens.
Just like at Easter, Bridge Church hosted hundreds of people, and hundreds more joined online. News of the drive-in worship service spread quickly. The local radio station, newspaper, and even media outlets in Edmonton—the capital of the province—covered the event.
Pastor Ryan said the event wouldn't have been possible without your support—and definitely not without the work of Bridge Church's committed members and volunteers.
"God brought together a wonderful group of women and men for Bridge Church," said Pastor Ryan. He said his church community has passionately helped spread the gospel in their community through two drive-in worship services, community concerts, a #ForTheFort service campaign, discipling new believers, and so much more.
"One of the most exciting parts of church planting is to watch how God brings people together to build his kingdom," said Pastor Ryan. "I am so thankful to be part of a community who wants to reach people with the gospel."
Thank you for being part of the ministry!
'Hope in the Dark'
In Michigan, you helped make it possible for The Caledonia Gathering to host a "Hope in the Dark" outdoor worship service where people could easily social distance.
"The lack of ability to gather as a whole church in person with our community since March 2020 has been difficult," wrote Pastor Corey Van Huizen in the community engagement grant application to Resonate.
"It has slowed people's ability to invite their neighbors," he continued. "While it's all well and good to invite them to our online experiences, there's something special about gathering in person with others."
With your help, the church plant was able to safely gather on a farm the Sunday evening before Christmas to sing carols and hear a hope-filled gospel message. December in Michigan is windy, snowy, and icy—and the grant from Resonate helped cover the cost of hot chocolate, face masks, and fire pits that the church plant can continue to use for future community events year-round.
Three new families joined The Caledonia Gathering for worship that evening, including a young couple that Pastor Corey and his wife have been praying for and connecting with over the past two years.
"It was certainly an out-of-the-box way to gather people safely during these uncertain times and gave unchurched folks a glimpse of what our church cares about most: people knowing Jesus," said Pastor Corey.
Church plants are typically able to reach people in communities that established congregations have not been able to reach—and that's why your support is so important. Resonate community engagement grants help make it possible for church plants like Bridge Church and The Caledonia Gathering to share the gospel with and connect with new people, both during the Christmas season and year-round.
Prayer Points
Give thanks for the new people who have connected with Bridge Church and The Caledonia Gathering!
Pray for the church plants as they follow up with the people who have connected with their communities and disciple new believers. "It took a couple of months after Easter's drive-in service to get an idea of the impact it had," said Pastor Ryan of Bridge Church. "We will offer online discipleship classes, seek to put people in our online connect groups and eventually invite people back to in person church. Please pray that those who took in Christmas will take the next steps of discipleship we lay out for them."
Pray for online worship services that Bridge Church, The Caledonia Gathering, and other church plants are streaming. As Pastor Corey of The Caledonia Gathering mentioned, connecting online is not the same as gathering in person, but many people have still been tuning in online. Ask the Holy Spirit for wisdom and guidance in online services, and pray that God will continue to work powerfully in people's lives as they tune in.
Region:
Great Lakes
Western Canada
Tag:
Mission-Shaped Congregations
Partner Church Plant:
Bridge Church
The Caledonia Gathering