Not everyone feels comfortable stepping foot in a traditional church building. You're reaching them online through a new ministry called Reclaim-App.
How often do you go online to seek answers to your questions? People around the world might go to Google, YouTube, or social media platforms for questions ranging anywhere from "How to boil water" to "Who am I?" and "Is God real?"
That's why you're partnering with Pastor Cari Fydirchuk, a Mission Network Developer with Resonate Global Mission, to start and grow an online ministry called Reclaim-App.
"For those seeking, online offerings are typically the first place to go—there is safety in being able to check things out for yourself first," said Cari.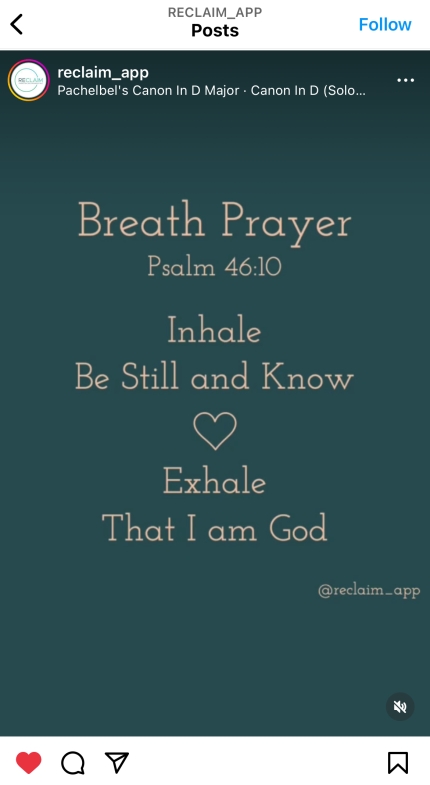 While Reclaim-App is not yet an app, the name represents a hope for the future and type of support the ministry hopes to offer as it grows. With your support through Resonate, the app is being built, and the website is launching this fall. Currently, you help make it possible for Reclaim-App to be present on YouTube, Instagram, and Facebook. Cari also hosts a podcast alongside counseling therapist Liz Kahle. 
Reclaim-App covers topics and offers resources that people are searching for online, and that's why Resonate partners with Reclaim-App—the ministry is specifically designed to reach people who are seeking the truth of the gospel but might never step foot in a traditional church.
"By creating a safe online space, we're going to the people. Giving them an opportunity to experience God, community, and self-compassion at a pace that meets their needs," said Cari. "We love that we can create a community that is accessible to all people."
Through Reclaim-App, you're providing a safe for people who are asking questions about faith and seeking to learn more about the gospel; people who have been hurt by the church but are still hungry to be part of a faith community and grow in relationship with God; people who find it difficult to get to church due to physical limitations; young people who are away at school; and more.
We're going to the people. Giving them an opportunity to experience God, community, and self-compassion at a pace that meets their needs.
Reclaim-App's YouTube channel and Instagram account lead people through spiritual practices like yoga, prayers, and meditations. For instance, one Instagram post instructs people through a breath prayer of Psalm 46:10. Music plays in the background while text instructs people to breathe in while saying "be still and know" and breathe out while saying "that I am God."
The podcast tackles subjects on challenges people face, such as grief and loneliness, as well as spiritual topics like "Questions People Ask Jesus," "God in the Ordinary: Prayer and Solitude," and an episode about fasting.
"(We) tackle some of the hard stuff facing us today, looking at life through this dual lens of pastor and therapist," said Cari.
In February and March of 2023, Cari hosted an online book study via video call on Brene Brown's book Atlas of the Heart: Mapping Meaningful Connection and the Language of Human Experience. People asked thoughtful questions, shared about their experiences, and discussed takeaways about building meaningful relationships in today's world.
Cari has also been able to connect with some people locally in her Cochrane, Alberta, neighborhood through leading yoga sessions.
"And we're partnered with our local church, River Park CRC in Calgary, where we continue to consider ways of engaging with this work in-person as well as online," she said.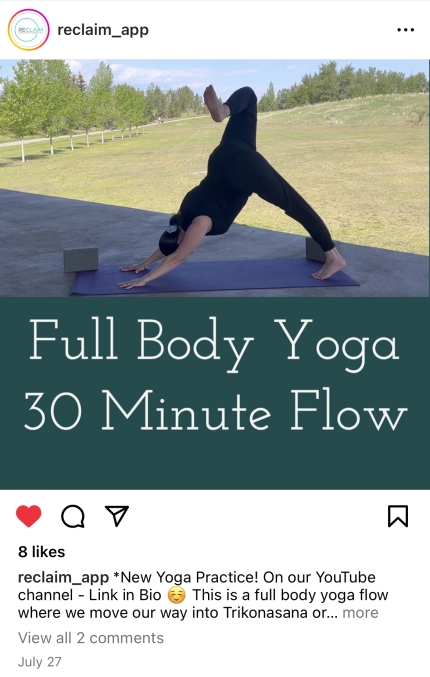 Reclaim-App launched within the past year and is still growing, but Cari sees God at work everyday through people engaging with the content, reaching out with questions, and more.
"We are seeing the Reclaim-App online community come together in beautiful ways. We are a diverse group, with people connecting from all over North America, as well as Europe and Asia," she said.
And while traditional church gatherings and programs are often limited to one day a week, or a few days a week, Reclaim-App is focused on everyday. 
"We're more interested in what's happening in your everyday moments. Where we can see, know, feel, and experience God already in our midst. Where we can experience God and the Spirit's ongoing work through believers and non-believers alike," said Cari.
For Resonate, that mindset is key in living out and sharing the gospel with our family, friends, neighbors, and coworkers.
Thank you for helping to start and grow this important ministry! Please pray for those who are lonely, asking tough questions, or seeking truth. Pray that Reclaim-App can be a safe space for them