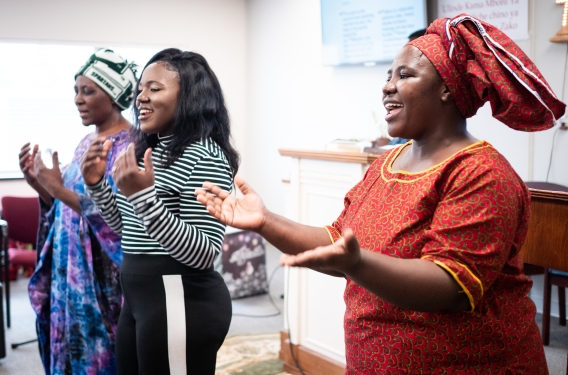 What do you picture when you think of home? Chantel thinks of Strong Tower Ministries, a Resonate partner church plant that you support in Grand Rapids, Michigan.
Without a Home
"I left my country when I was five years old. Before then, my mother took me to church. I learned to pray and sing," said Chantel.
Chantel is one of the hundreds of thousands of people from the Democratic Republic of Congo who have been displaced because of war. She lived in a refugee camp for many years and moved to the United States as an adult.
Navigating a new culture and learning a new language is tough and no one ever taught Chantel how to read. Chantel knew she could always rely on God, but it was difficult for her to worship and grow in faith in a church that doesn't speak her language.
"I find it difficult to understand the Bible because I did not get an opportunity to go to school. I am not able to read the Bible," said Chantel.
Because of your support, Chantel found a church home.
Worshiping in Swahili
When Chantel connected with Strong Tower, she was able to worship God wholeheartedly in the language she knows best.
Every Sunday, Pastor Bryson Masiboh drives a fifteen-passenger van around the city to pick up families. He takes multiple trips.
Families spill out of the van and gather inside the brick building where the church meets. You'll see dresses or shirts sewn from traditional African fabric with colorful patterns, but you'll also see jeans, t-shirts, and sweatshirts. They sing and dance to worship songs in both English and Swahili.
"Since my childhood, I have a gift of singing and praising God," said Chantel. "To sing in my language really helps my spiritual growth because I am able to understand what I sing about God . . . I received Jesus' saving grace through singing."
But Strong Tower is more than a place of worship.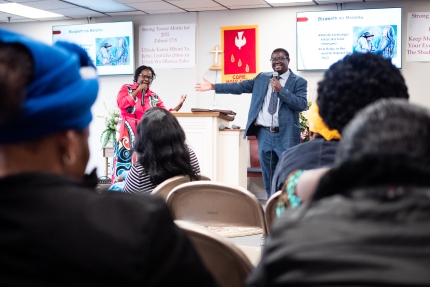 A Family of Empowerment
Refugees face unique challenges, and you're helping to meet their needs.
Through your support of this church through Resonate, you're also providing a food pantry and English classes for Chantel and her friends. Tutoring classes also help to support her children in their studies. These ministries bring a lot of people into the church.
More than that, however, you helped foster a family. Members of Strong Tower connect throughout the week, sharing praises and asking for prayer and support when needed.
This community supports one another . . . it's a family of empowerment. This becomes a safe place they can call home and where they can meet their spiritual, mental, physical needs.
Thank you for welcoming newcomers and providing them with a church home. Because of your support, this church plant is thriving!
Every Sunday, you'll find Chantel worshiping inside the building where Strong Tower meets. You might even find her leading the community in song.
"To be a member of Strong Tower means a lot for me," she said.
Watch the video! resonateglobalmission.org/strength
Donate Now
US Dollar Donation Form
Go to Canadian Donation Form