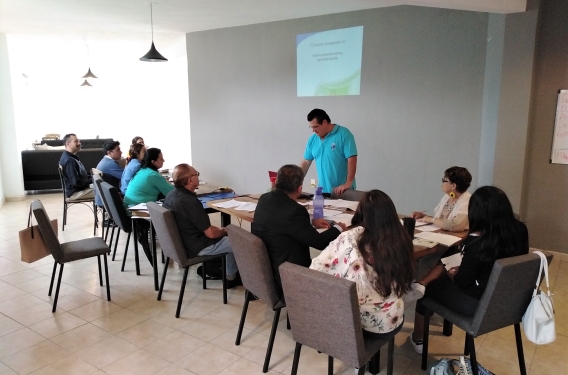 We work better when we learn from one another. Because of connections you're helping to form through Resonate Global Mission, missionaries across borders helped make it possible to launch a fruitful financial stewardship program in Guadalajara, Mexico.
Financial Stewardship from a Biblical Perspective
In 2016, Resonate missionaries Ben and Amy Meyer planted New Life Church in Guadalajara alongside Esdras and Mariana Garcia. As the church plant continues to grow and thrive, they wanted to provide financial training for members of the congregation from a biblical perspective.
"Finances are an important part of life and discipleship that are often overlooked," said Ben. "We deal with money in so many ways every day, how we use money is a spiritual matter."
"Our way of spending money has to match what God wants from us," added Israel Hidalgo, a member of New Life Church. A lawyer and small business owner, Israel volunteered to teach the training.
But New Life Church had never led a financial training course before. They had interest from members of the congregation and a teacher to lead the course, but they had no idea what materials to use. Not until they got the connection they needed.
Forming Kingdom Connections
Resonate strives to connect churches and ministries throughout the world so believers can better reach people for Christ, disciple believers, and transform communities for God's kingdom. 
Resonate missionary Steve Holtrop, who serves with the Nehemiah Center in Nicaragua, usually connects ministries within the country where he's serving. But when he learned that New Life Church was starting a financial training course from a biblical perspective, he connected ministries across borders.
He connected Ben and Israel with Resonate missionaries Jesse and Jari Rodriguez, who work with ministry leaders, business owners, and families in Nicaragua on managing their finances through a gospel perspective. Ben, Israel, Jesse, and Jari met over video call to discuss course material and best practices. Jesse and Jari also provided Ben and Israel with a connection to Buen Sentido (Good Sense) for the course materials.
"We could not have started the course without Jesse and Jari," said Ben. "They were the key to enabling us to get the materials."
Empowered to Get Out of Debt
The financial course through New Life Church recently wrapped up. Nearly 10 members completed the course, including Lupita and her son, Álvaro, who graduated from university shortly before joining the course.
"We are not doing very well economically," said Lupita. As a family, they had built up debt. But because of the financial course, they're taking practical steps to get out of debt, save money, and give back to God's kingdom through ministries like New Life Church. 
"Together we came up with an expense plan that was more thoughtful," said Lupita. "I learned too that I have to be wise with my expenses and that I should avoid debts."
Álvaro said that the course changed the way he thinks about money. "We learned … that God is not against wealth, but that he does want whatever we have to be used for his glory."
The connections that you help to form through Resonate between missionaries and other ministries throughout the world help make ministry possible. Thank you for being part of God's mission—thank you for your support!