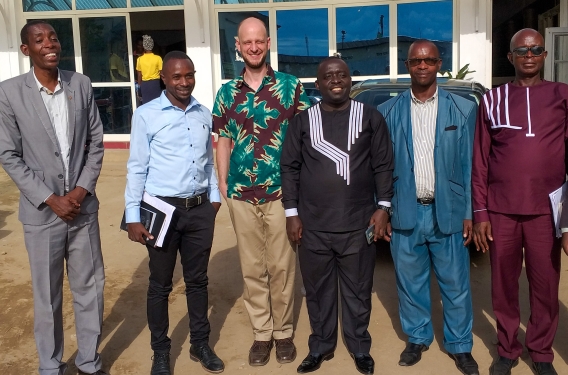 A special note from our director about a need in Burundi. You can help.
One of the things we're learning at Resonate is that the questions our churches face in North America are the same around the world. What does the future look like? Who will be our leaders? How should we respond to our changed and changing reality?
That's the case for Pastor Richard Ndizeye in Burundi. In this small country sandwiched between Rwanda and Tanzania, church leaders like Pastor Richard realized they didn't have answers to these questions. They're looking to you for help.
Pastors in Burundi Look to You
The church in Burundi has a long history—the majority of the people here identify as Roman Catholic. But across the country, people across all faiths and backgrounds struggle with poverty, and recurring violence and war have stifled organization, training, and growth.
Many of the Reformed denominations in Burundi have been asking Resonate missionaries in Uganda and Kenya for help over the years. Some of the leaders there are close friends and have even visited our synod.
Resonate missionary Anthony Sytsma, serving in Uganda, reports that the church in Burundi needs help primarily with training pastors to lead their churches. Since most cannot afford a seminary education, pastors often enter the ministry without any formal training. As a denomination with resources and expertise for training pastors, Anthony knew the CRCNA had a lot to offer!
That's why your support is so important—in Burundi and around the world—as a part of the Christian Reformed Church's mission to live and share the gospel. Your brothers and sisters in Christ need your support!
And we have already begun taking the first steps.
Resonate Training Is in High Demand
Anthony worked with partners in Uganda and Kenya to come up with a plan to bridge the gap between pastors and education. They taught lessons from the Timothy Leadership Training curriculum for pastors in Burundi—on topics including spiritual care, Christian stewardship, ministering to families, discipleship, leading worship, and growing the church.
It's just a start for the church in Burundi, but joined by partners Jared Kakariobe Bosire and Stephen Omoko, Anthony launched the very first Timothy Leadership Training event with 50 participants—with many more waiting for a chance to join.
"We had to limit the number to make sure people can really participate in the discussions," said Anthony. "But after these 50 leaders graduate, they themselves should be able to spread Timothy Leadership Training throughout the country."
You Can Help Change Their Lives
Pastor Richard Ndizeye was at that very first training. He learned how to write an action plan for ministry, and how to pay for it with resources already available, instead of waiting for outside support. And since then, he changed the life of every widow in his church by raising a piglet for each—a valuable asset in a country where most people are subsistence farmers.
Other participants reported back that their work as pastors had changed after just this first training with your missionaries. Pastor Irakoze Eddy began a counseling ministry, starting with one person in his congregation struggling with alcoholism. And Nizigiyimana Marceinne worked with a broken family at her church to reconcile them to each other and to God.
In Burundi and beyond, your support for Resonate ministries like Timothy Leadership Training has an impact that changes lives and communities. Will you make a gift today so that we can continue to expand this ministry?
A Message to You from the Church in Burundi
Your brothers and sisters on the other side of the world have written a special greeting for you:
"You have Reformed brothers and sisters existing in Burundi even if we are small. We greet you. We say 'please pray for us.' May God help us to achieve our desire to come together and be more strengthened and unified… Come visit us to train our leaders and enjoy the hospitality of the Burundian people!"
Please make a gift today to help these committed Christians strengthen and grow their churches! Your gift to Resonate is an important way you can put your faith into action, and share the good news in places like Burundi and around the world.
Don't wait to send in your check or make a secure gift using the form below. We want to host five more training events in Burundi, and even more around the world, so these pastors can be certified to train others. Will you help them today?
Make a gift today to continue growing God's global church!