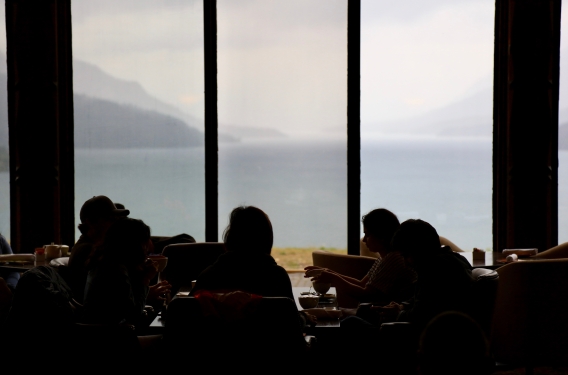 Some Resonate missionaries serve as teachers in a country in East Asia where there are some tight restrictions on Christianity. Before the coronavirus, missionaries found that students were bolder in pursuing conversations about faith—and one missionary shared the hopeful story below. COVID-19 makes ministry more difficult. Will you please pray for missionaries as they continue to adapt ministry during the pandemic?
Resonate Global Mission worker Elizabeth teaches English. There was a time when 30 students went to church with her on a Sunday. During weekly Bible studies that she led, the room was packed. Students called her, asking if she was home.

"Yes," Elizabeth said.
"Good," they would say. "I'm right outside your door."
But then the government added more restrictions to religion. Authorities told students they couldn't participate in religious activities and warned them to report foreign teachers who brought faith into conversations. Suddenly, Elizabeth only met with students outside of class once or twice a semester.
Recently, however, the atmosphere has changed again. The regulations still stand, but students have been bolder in pursuing conversations about faith.
A Surprise Invitation
One day, two former students contacted Elizabeth. They wanted to have dinner with her. Elizabeth thought the students needed help with an essay or project—but when she met them at a restaurant, they surprised her.
"Teacher, from the first time we met you, we liked you," they said. "We knew you were genuine, but we were afraid to talk to you because our English was poor."
They still didn't speak English fluently, and Elizabeth didn't speak the national language fluently either—so that night, the students had asked Elizabeth to bring along a friend who could help translate. Something told Elizabeth that this was an important decision, so she prayed about who to invite. God brought her friend Charlotte to mind.
As the four of them talked and ate together, Charlotte mentioned something about her faith.
"You have a faith?" one of the students said. "I've wanted a faith for the longest time. I just don't know which faith to choose."
"You should choose Jesus," said Charlotte.
Relying on Prayer
Sharing about your faith is something you can be arrested for in this country, but Charlotte shared her testimony. Elizabeth usually takes these conversations somewhere else, somewhere more private, but she didn't want to interrupt the Holy Spirit's work.
Elizabeth fished her phone from her purse and tucked it under her leg. Phones can be bugged in this country, and anyone could be listening in on their conversation. 
She prayed: Jesus, please don't let anyone overhear this conversation who isn't supposed to hear it.
By the end of the dinner, the student had excitedly agreed to go to church with Charlotte to learn more about Jesus. As they were saying good-bye, Elizabeth pulled her phone out and noticed that she didn't have service. No one would have been able to overhear their conversation.
Thank you, Jesus.
Praise God for opportunities to share the gospel in countries where Christians face persecution. Please pray for this student as she learns more about Jesus—ask God to draw her into relationship with him. And please pray for Resonate workers like Elizabeth who are sharing the gospel in hard places.
*Names have been changed
Donate Now
US Dollar Donation Form
Go to Canadian Donation Form