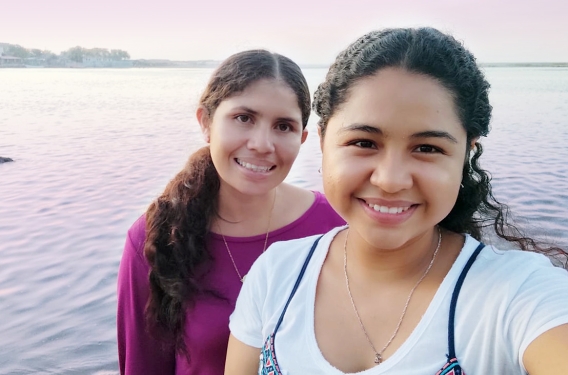 God used Jinnett and Nereyda to bring 11 families closer to himself and to the church. You helped make it possible.
Jinnett and Nereyda noticed families living in conflict all over their community in Nicaragua.
Family members tend to hurt one another, whether intentionally or not. Children don't always appreciate the work their parents do for them. Parents can have a tendency to compare siblings. Family members sometimes shout at one another, or they simply do not speak to one another at all. As conflict goes unresolved, pain builds up and drives a wedge into relationships.
"The family is a gift from God. For many years, the family has been losing God's design, a situation that has been aggravated by the Covid-19 pandemic," said Jinnett and Nereyda.
While they knew there were organizations in their community that worked to see families flourish, Nereyda and Jinnett noticed that few, if any, of those groups worked from a biblical perspective. Nereyda and Jinnett saw a gap that the church could fill.
And you helped make it possible to fill that gap.
Listening to the Holy Spirit
Jinnett and Nereyda had an idea for helping families to reconcile with one another and thrive, so they applied for and received a grant that you help to fund through your support: a Resonate Innovation Experiment Grant.
Working with local ministry leaders, Nereyda and Jinnett developed a curriculum and gathered families together. One morning, Nereyda sensed she needed to do something different from what they had planned. Specifically, she felt that she needed to ask three questions about self-esteem and how individuals had felt hurt by their family members.
God used Nereyda and Jinnett in their tirelessness to bring 11 families closer to himself and closer to the church.
"After a brief silence the room erupted as people's hurt, pain, and anger started to come out," said Steve Holtrop, Resonate's regional mission leader for Central America.
People were crying and shouting. After some time, a pastor felt the need to ask for forgiveness from someone in the room who she had offended that morning. God was at work in people's hearts. One by one, spouses, parents, children, and siblings followed her example and started to apologize to one another.
Steve noted how amazingly God works when people like Nereyda follow the Holy Spirit's leading. "These simple, unplanned, God-guided questions broke the dam," he said. "They learned that forgiveness is powerful."
Thank You for Supporting Young Leaders
Thank you for providing the support and resources that Jinnett and Nereyda needed in order to join God on mission!
"God used Nereyda and Jinnett in their tirelessness to bring 11 families closer to himself and closer to the church," said Adrianna Herrera, one of your Resonate missionaries who works with Jinnett and Nereyda.
This ministry you helped make possible is one step toward long-lasting kingdom transformation. Jinnett, Nereyda, and your Resonate missionaries are excited to see how God continues to work in and through everyone who has participated in this ministry.
"Forgiveness is key to peace," said Steve. "As people move toward forgiveness, good things happen. Ideally, it starts at home. You could be a global leader, but if you're not able to give and seek forgiveness in your home, the odds are you're not going to be able to do it in your community or on a global scale either."