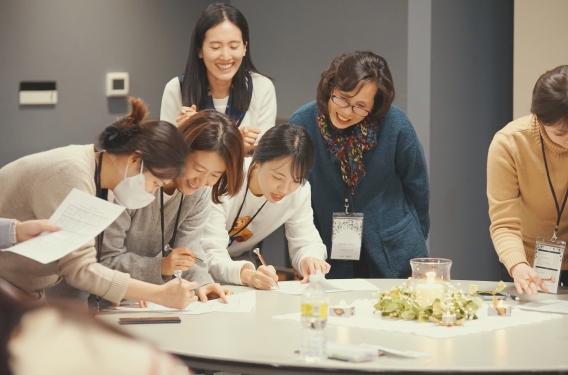 Throughout the world, pastors' spouses play an integral role in mission and ministry—but they're often overlooked. You provided care and support for a group of spouses from South Korea.
"I have forgotten about my own life."
"I have felt deficiency all around in my life."
"It is rare for us to experience rest and restoration."
Those are the words of a pastors' wives. They have moved with their families from South Korea to Grand Rapids, Michigan, while their husbands study at Calvin Theological Seminary (CTS).
You provided support and care for them.
Weary, Burdened, and Half a World Away from Family and Friends
Throughout the world, pastors' spouses play an integral role in mission and ministry. They serve in church leadership, run ministry programs, and serve members of the church and community. By the time these spouses packed up and moved to the United States, they were exhausted and burned out. In Grand Rapids, they are halfway around the world from family and friends back home. So, they spend their days alone on daily chores and raising their children. 
"For them, this has become a kind of monotonous life—just kind of waiting and waiting and waiting for their husband to receive a degree," said Paul Yu, Resonate Global Mission's Regional Mission Leader for East and Central Asia.
As Resonate's regional mission leader for East and Central Asia, Paul supports missionaries and ministries throughout the region—but he also works with people who have moved from East and Central Asia to the United States.
While Paul was planning leadership training for CTS students from South Korea, he discovered their spouses were struggling.
He knew Resonate needed to support these overlooked ministry leaders. You helped make that possible.
Finding Rest at a Retreat
Paul worked with CTS to offer a two-day, one-night retreat for spouses. The purpose of the retreat, he said, was to encourage the spouses to "reflect upon their past, heal in the present, and plan for their future."
Many of the spouses felt like their time in Grand Rapids was just a passing season. Paul wanted to help them see that their current season of life has a purpose right now.
"It's not just a time of patience and a simple transition, but a time of healing from the past and preparation for the future," said Paul. "It's an important time to go through this transition and prepare for the future and become a healthier person."
The women had an opportunity to take a break from their day-to-day life and spend time at a retreat center on the shores of Lake Michigan. They heard a message from Paul on seasons of transition, shared their stories with one another in small groups, took a personality test to better understand themselves and their needs, and spent time on their own reading Scripture and praying. MiSook Gho, a Resonate missionary who serves in Japan, also shared her testimony.
Over the course of two days, the women broke down barriers. They opened up with one another and in prayer to God. They explored their creativity by writing and singing Psalms together, crafting clay models, and more. By the end of the retreat, they were smiling and laughing with one another.
"They realized that this time is really a wonderful opportunity for them to reflect upon their past wounds and become a renewed person so that they can do ministry in the future back in Korea," said Paul.
The woman who shared that she had forgotten about her life said, "It has been a retreat program that made us laugh and cry. I was able to reflect upon my life to regain it and move forward with hope for the future."
"Calvin Seminary wishes to thank Resonate for hosting a retreat for the Korean student spouses where the women felt uplifted, supported, and encouraged," said Sarah Chun, Dean of International student and Scholar Services.
Thank You for Meeting a Need!
Thank you for helping to make this retreat possible! You have helped encourage and support these weary ministry leaders. The spouses asked for another retreat soon, and Paul is hoping to plan one sometime in the near future. Nearly two-thirds of the spouses could not attend this time, and Paul hopes that more will be able to join.
"It was truly a time for me to encounter my deep inner life that I didn't even know until now, and re-establish my relationship with God through this retreat."
"I truly appreciate Resonate Global Mission [for making this] retreat possible in consideration of the spouses of the students at CTS."
"Through your service of love, I have returned home with renewed strength and recharged battery to be able to overcome the obstacles of international student lifestyle for the unforeseen future. Thank you!"