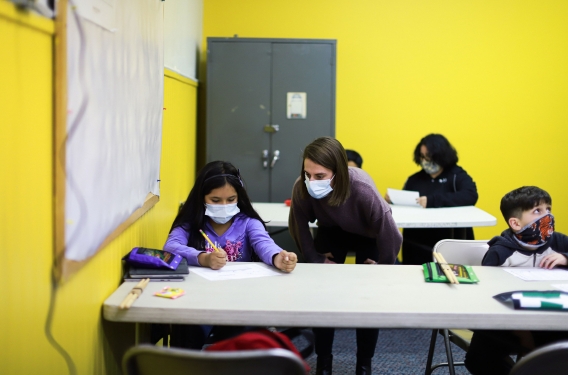 Amanda joined Cohort Detroit to help her grow as a ministry leader.
"My voice is not the most important one in the room," said Amanda Becker.
It's one of the lessons God has been highlighting to her through Cohort Detroit—a lesson that has been critical in her ministry.
A Resonate Global Mission initiative, Cohort is a discipleship opportunity for young adults to serve in a grassroots ministry, learn in community, and engage in deep spiritual formation while wrestling with challenging conversations about faith, mission, social justice, and more. Cohort was started in partnership with Ann Arbor Christian Reformed Church and is one of the ways Resonate and the denomination is working to equip young adults for mission and support them in their ministries.
Amanda serves as the director of the After School Center for New City Kids: Detroit, which provides tutoring, music lessons, Bible studies, and more for children in the community. What makes New City Kids special, said Amanda, is that teenagers are employed and empowered to serve as Teen Life Interns, who teach music lessons and tutor students in the classrooms.
"They become mentors to the elementary students," said Amanda.
New City Kids recently launched the Detroit location, so Amanda is part of a leadership team helping to get it off the ground. She joined Cohort Detroit this past winter and spring because she wanted to learn from other leaders and be part of a diverse community where not everyone looked like her or came from the same background as her.
Amanda has been able to apply what she learned from Cohort Detroit in her daily work with New City Kids. One of those lessons—the idea that "my voice is not the most important one in the room"—has been especially important.
"We practice that almost implicitly on a weekly basis on the Cohort call," said Amanda. "It helps me to engage better with the communities that I'm in, the kids I work with, and especially the teens I work with."
She said that the revelation is helping her to shift how she approaches ministry. She's becoming a better listener, especially when someone is sharing about a challenge or problem.
"It's really easy to want to fix it or give advice right away, rather than taking a step back to pause and ask thoughtful questions," said Amanda. "I certainly fall into that space in my job or in my life where I believe I have the right answer, I have the right thing to bring, I have something to give—and who doesn't want to do that?"
But being a listener who prioritizes asking questions, rather than giving advice, has enabled Amanda to make more room for God to work in her ministry.
"The mission of God is already present in the spaces we enter," said Nathan Groenewold, director of Cohort Detroit. "We honor that presence by first asking: How is God working in your life, in your neighborhood, and in your city, and how can we support you in this? A core piece of Cohort is gathering young leaders to prayerfully ask those questions and live out those answers."
"It's much more of this prayerful, Spirit-led posture ... just asking: God, where are you working and how can I come alongside you in this space?" said Amanda.
During a conversation with one of the teenagers who serves as a mentor for the afterschool program, Amanda learned the teenager grew up going to church but decided that religion wasn't for her. 
"She's seen a lot of Christianity be oppressive to people of color," said Amanda. "That saddens me so much. I'm praying that we could write a different story through the work that we're doing and through the way we represent Christ, which is in no way perfect."
Amanda hopes that this teenager will come to see that Jesus is the opposite of what she experienced as a child. It will likely take a long time—but those conversations are something Amanda is gifted for and something Cohort Detroit helped equip her for.
"When I think of Amanda's presence, she's usually the first to encourage somebody," said Nathan. "She has a kind of counseling, or a therapeutic, presence and has clearly done a lot of work herself in learning how to hear and live with trauma and hard realities. She extends that grace to others, which I think allows them to feel safe."
Are you a young adult who is interested in learning more about mission and social justice? Do you want to grow as a leader? Cohort currently has opportunities to learn and serve in three locations: Central America, Detroit, and the Middle East. You can learn more about Cohort at www.ResonateGlobalMission.org/Cohort.