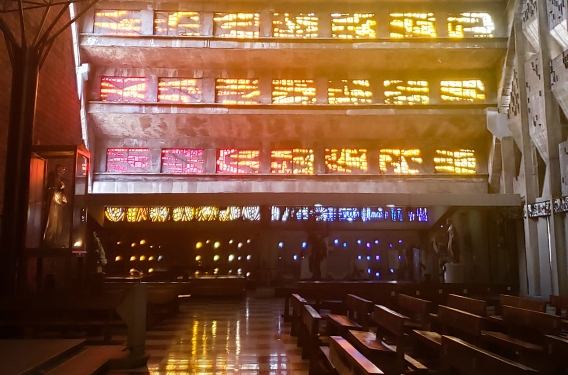 From the outside, Iglesia El Rosario looks like a decrepit building that should be condemned. Inside, it's full of amazing stained glass and imagery of new life from pain. What does it look like to be a witness for Christ in this place—and places throughout the world?
From the outside, Iglesia El Rosario in San Salvador, El Salvador, looks like a decrepit concrete building that should probably be condemned. But inside, it's full of amazing rainbow-colored stained glass and imagery of new life from pain. The main doors still have bullet holes from when 21 students were ambushed during a protest and shot outside the doors in 1979.
A group of North Americans witnessed the beauty and pain reflected in this church and in many other situations in El Salvador during a Vision Trip in February. In addition to Resonate staff in Central America, we were hosted by Resonate's local partner organization, Seeds of New Creation.
As we visited churches, organizations, and schools, our conversations focused around the question: What does it look like to be a witness to the good news of the gospel in this neighborhood? We heard stories from pastors and churches who are seeking to faithfully love and serve their neighbors in a changing context. We saw a flourishing garden that helped a family through COVID-19 supply chain problems and gave them hope for the future. We visited a school where they showed us a vacant lot they were about to clear to develop a community garden for the school. There were stories of deep pain and great beauty, like Iglesia El Rosario, and stories of how faithful Christians are sharing the story of how God is making all things new.
Our conversations were inspired by the discussion questions in Resonate's Witness: Equipped to Share the Good News, a self-guided or small group study on what it means to be a witness for Christ where you live. And now that we're back in our North American neighborhoods, each one of us will facilitate this course in our own neighborhood, connecting what we learned from our Salvadoran brothers and sisters and how we are witnesses of the good news in places like Grand Rapids, Michigan; Pella, Iowa; and Hamilton, Ontario.
Are you interested in joining a trip like this and witnessing how God is working in another part of the world and in your own neighborhood? We hope to offer this vision trip more widely in 2024! If you're interested in receiving more information once it is available, please complete this form. 
Written by Ruth, Resonate's Volunteer Ministries Program Coordinator