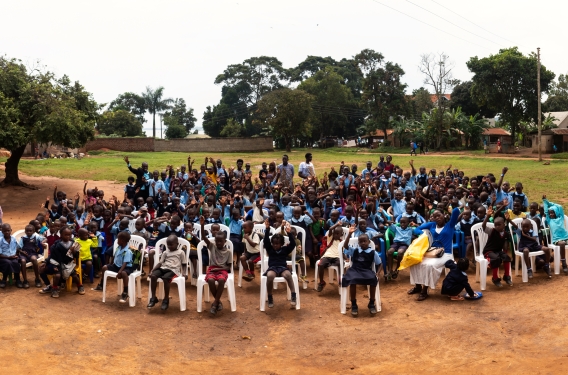 You helped make it possible for Resonate missionaries to bring Educational Care training to a new location—a refugee camp in Uganda. God worked in surprising ways through your support. Four people decided to follow Christ.
A Christian Training Where Not Every Participant Is Christian
Educational Care is a curriculum of Raise Up Global Ministries that Resonate missionaries use to instruct teachers and school administrators with best teaching practices. The training is based on biblical principles and equips educators with a Christian worldview of teaching—but not every teacher who participates is a Christian.
That's one of the reasons why the training is so powerful. 
When Bishop Henry learned about Educational Care training, he knew that was what the Christian school in his community needed. His church had started a school in Baelameling, a camp for refugees from South Sudan. The public schools were crowded—too many students and too few teachers—and he and other leaders in the camp wanted to provide children with a better education that was Christ-centered.
But the school and community are working with very few resources. The teachers are gifted with children, but many of them have not received training in education. Bishop Henry contacted Resonate's team and asked them to lead the training for the school's teachers.
"They're just doing the best they can with what they have," said Resonate missionary Diana Boot. "This had been a deep desire for us for a long time and we were overjoyed to be able to serve in this way."
The First Educational Care Training In Baelameling
Thank you for helping to make this training possible. Resonate's Educational Care team in Eastern Africa made the trek to Baelameling. As they neared the camp, their car bumped over the dirt roads, kicking up clouds of dust into the air. Your Resonate team was glad to be there, and the educators were excited to get started.
"It was an amazing group of teachers and child workers that really touched my heart. They were so committed to learning new skills,"  said Barbara Nadunga, one of your Resonate missionaries who facilitates Educational Care.
And while the training equipped educators with best practices for teaching children, the training also transformed some individuals' lives.
While leading Educational Care training in the past, Resonate missionaries have discovered that not every educator who participates is a Christian. Many Muslims have actively participated and appreciated the lessons. Some educators identified as Christian by name but never had a personal encounter with Jesus.
It was similar in the refugee camp—not everyone knew you could have a personal relationship with Christ.
You helped change that.
Deciding to Follow Jesus
During the first training on a biblical worldview of teaching, the group was discussing the topic of the second coming of Christ.
"We were talking about what it would be like when Jesus comes back and what we should be anticipating. And everybody was sharing the pains they have gone through and all of the heartaches," said Nadunga.
That's when one woman stood up and said: "I think it's time for me to give my life to Jesus Christ."
And she did.
One of the facilitators took her aside, asked if she had any questions, and prayed with her.
Another woman, Joyce, sat more quietly throughout the week of training. But at the end of the week, she approached Nadunga and shared that she wanted to give her life to Christ. She knew this would change her life, and she was ready: she also developed an action plan as a result of the training.
At the time, she was brewing and selling alcohol in her home to help supplement her income from teaching—but she was tired of that lifestyle, especially when two men got drunk in her home, got into a fight, and hurt one another. She wanted to be a good example for her students.
"During the training, she was convicted to change her lifestyle. She really wanted her home to be a place of peace, a place of fellowship," said Nadunga.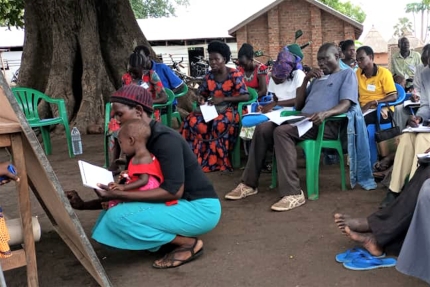 Long-lasting Transformation
Nadunga has been following up with the participants to encourage them and coach them when needed. Joyce has been thrilled to share that she stopped selling alcohol and has started growing and selling vegetables instead.
"She said she's doing really well. She's happy. She says this is the best decision she's made in her entire life and that we've been able to support her through this journey," said Nadunga.
The transformation in educators' lives is one of the reasons why Boot believes Educational Care is so powerful. She recently retired from the field, but she's excited to see the ways God continues to work through Resonate's Educational Care team in Eastern Africa.
"I think the reason that it has such value is that as the teacher's change, they will have an impact on children. There's a high youth population in Eastern Africa, but particularly in Uganda. If we can start to bring change in the schools or how children know themselves and understand who they are, that can really have an impact on the next generations. I think that's really hopeful."
Bishop Henry shares that Educational Care is helping their school reach their goal to disciple their children. He looks forward to Resonate's team returning to continue the lessons with the educators.
"Through Educational Care, the teachers will be able to embrace the biblical worldview that is the backbone of our Christian schools," he said. "We have covered one topic … it has had great impact in the lives of my educators. The way they see and handle things in the school has changed."
Thank you for helping to make a difference in these teachers' lives! God is working through your support to transform people, families, communities, and even entire countries.