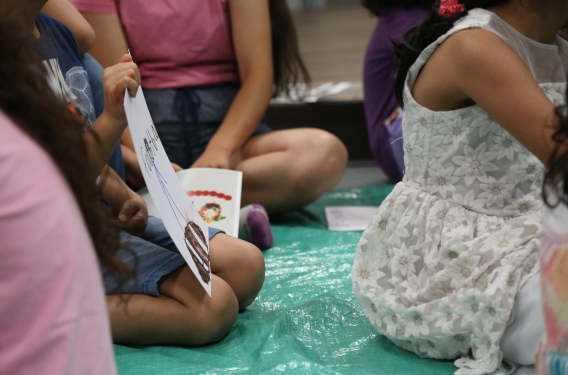 God has one mission, but there are many expressions of mission throughout the world. What's yours?
God has one mission, but there are many expressions of mission throughout the world. Whether you live on a bustling city block or off a quiet country road, mission means walking alongside young people, conversations over food at the table, taking an opportunity to make someone's day, and so much more.
Here are some mission moments from some Resonate partner ministry leaders in Eastern Canada. How would these stories look in your context?
Pulling Up a Chair
Every day, people are pulling up chairs with at-risk youth through Cross-Town Impact (CTI). Greg Houldcroft, Founder and Director, shares that CTI works with five public schools in the Athens and Brockville area of Eastern Ontario.
With a comprehensive four-year curriculum developed by CTI specifically for grades 3-6, Greg and 20 volunteers build relationships as they mentor youth to improve certain developmental assets including completing homework, taking responsibility, planning and decision making, healthy lifestyle choices, and reading for pleasure.
They use Bible stories, drama, crafts, and presentations by guest speakers to reinforce each learning. CTI invites select Grade 8-12 students, who completed the four-year curriculum, to return as mentors. 
Take away: How can you pull up a chair with youth in your community?
Finding The Titanic
Last winter, Chaplain Michelle Depooter with Ministry to Seafarers met a seafarer in port searching for the Titanic—its 9090-piece Lego replica.
In response, Michelle dove right in, searched the internet, and found the Titanic resting on the shelf at the Montreal Lego Store. One phone call and a short drive later, Michelle delivered the set to the seafarer's ship. Over the next four weeks, while at sea, the seafarer raised the Titanic—one block at a time from the box.
Back in Montreal, he shared with Michelle, that the more difficult task was dismantling the set to package and bring home in his luggage. Michelle gave him storage bags and containers he could use. Being Christ's presence with a transient population like seafarers involves relationship building when and as you can.
Take away: How could you form meaningful relationships in your context, even if they're short-term?
Asking 'What if?

'
Mission Montreal's Ministries Advancement Leader Jacynthe Vaillancourt asked "what if?" What if we tried to do in our contexts what Mission Montreal does in theirs?
Mission Montreal invites Christians in their community to live out their faith. Staff and volunteers provide afterschool tutoring in French as a second language for children of refugees. They establish community gardens and beautify working-class neighborhoods. They provide opportunities for pastors to network. Through their Urban Labs, they develop young adult leaders for mission. These are only some of what they do.
Take away: What if you did something similar in your context?
Being a Martha Among Marys
At Ottawa Campus Chaplaincy, Tuesday evenings are Feast and Faith with home cooked meals prepared by volunteers and delivered to campus. On one recent occasion, as the students arrived, Campus Pastor Ryan Farrell realized neither stove nor oven was on.
He frantically worked to catch up, dividing his harried attention between greeting students and food prep. While trying to enlist the help of the student leaders, he realized they were having meaningful conversations with fellow students as they waited to eat. They were practicing hospitality and fellowship.
It reminded him of Mary and Martha in Luke 10:38-42. The student leaders were Marys to his anxious Martha. The heart of all expressions of God's one mission is genuine hospitality and fellowship. 
Take away: How can you provide hospitality and fellowship in your context?
 
What's your mission moment? We'd love to know. 
 
Rev. Winston Visser, Resonate Local Mission Leader with Classis Eastern Canada
Photo courtesy of Mission Montreal