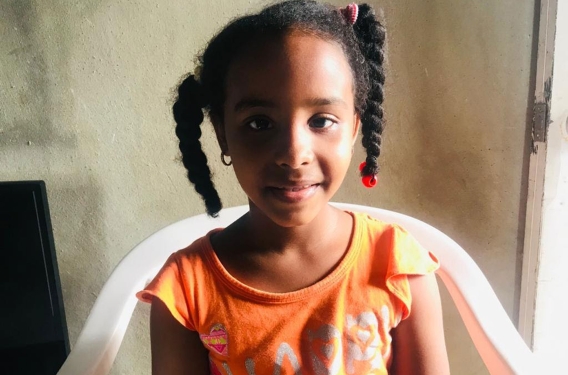 You wouldn't let money stand in the way of Liamary receiving the education she needs to thrive.
Liamary has a learning disability. When she started school three years ago at Espacio de Gracia (Space of Grace) Christian Reformed School in the Dominican Republic—a school you help support through Resonate Global Mission—she received personalized attention that empowered her to thrive in the classroom.
But then, like many people, her father lost work because of the coronavirus pandemic. The family could no longer afford the tuition for Liamary's education—not on top of the costs to care for her mother's chronic illness. Although Liamary's parents wanted the best for her education, they had no choice but to send her to a public school in the community. 
"The girl's learning disabilities would be a major challenge for her in the public schools … It was almost guaranteed that Liamary would not be able to keep up academically," said María Laura Frías, Director of Espacio de Gracia.
Espacio de Gracia is part of Colegios Cristianos Reformados (COCREF), one of your Resonate ministry partners. COCREF is a coalition of Christian Reformed schools in the Dominican Republic that provide quality, faith-based education for students whose families struggle financially.
For these schools throughout the past year, Liamary's story has been all-too-common.
The Covid-19 pandemic made many families' financial situations even more stressful. Many parents lost jobs and could not afford tuition or the resources for at-home learning. Schools did not have enough computers for every student and teacher, and many homes did not have reliable internet or electricity.
"We had to become creative and improvise. We would not let our children lose their school year," said Mario Matos, your Resonate missionary who serves as the director of COCREF.
Several educators, including María, started visiting students and their families at home to check in with them and assist them with any barriers.
"Since many of the students at Espacio de Gracia have learning disabilities, and many of the families have very limited resources, these visits really encourage(d) the students to continue," said your Resonate missionary Steve Brauning, who provides leadership and support for COCREF.
It was during one of these visits that María learned Liamary could not return to Espacio de Gracia—but María did not want money to stand in the way of Liamary's education. And neither did you!
Your support of Resonate's ministry helped make it possible for COCREF and María to award a scholarship for Liamary's education at a school capable of providing her with the personalized attention she needs to succeed. Thanks to the school's care and concern for students, Liamary recently completed her fourth year at Espacio de Gracia!
While the Covid-19 pandemic is not yet over, and it is likely that schools and communities will be struggling from the effects for many years to come, your support of COCREF through Resonate continues to help support educators, students, and their families.
"Through Resonate grants to COCREF, Espacio de Gracia has the opportunity to assure that students like Liamary do not miss school or have to drop out altogether," said Mario. "We continue to support our learning leaders with ongoing training, financial support, and coaching as they continue to love and serve their communities through Christ-centered education."
Thank you for being there for students like Liamary through grants and through supporting missionaries like Mario and Steve!
A version of this story was originally published by The Banner