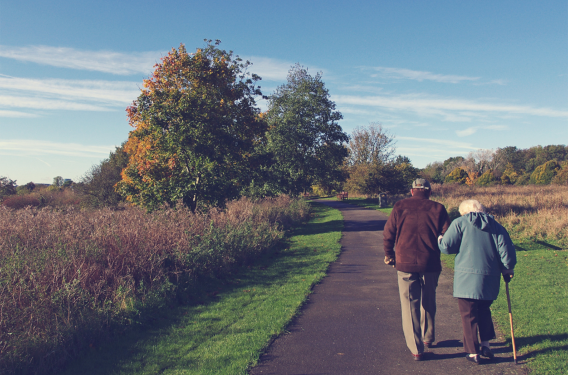 How can God work through the practice and rhythm of a daily walk?
"Whether you turn to the right or to the left, your ears will hear a voice behind you, saying, 'This is the way; walk in it'" (Isaiah 30:21). 
While going for walks and talking with neighbors might not seem like spiritual practices, these rhythms are an important part of Resonate Global Mission's Go Local process—and those involved in these walks are seeing God at work.
Go Local is a Resonate ministry that coaches believers through a process of learning how to discover where God is at work in their neighborhoods and joining that work themselves.
When Grace Stolte learned about Go Local, it seemed like a natural fit for her lifestyle. "I've grown up with the motto 'Bloom where you're planted,'" she said. 
Grace lives in Calgary, Alberta, and attends River Park Christian Reformed Church. She has lived in the same neighborhood for 45 years and has watched it grow and change. Many of the longtime residents in the neighborhood are in their 60s or older, but younger families with children and working parents are moving in too.
"Go Local encouraged me to be more intentional," said Grace. "It has helped me have a focus, ... to help make the neighborhood more elder-friendly, and to find ways to connect people."
Grace has been living out God's mission by being intentional with her neighbors. She'll often go for one-on-one walks with neighbors or visit them at home. She has organized several groups, including a coffee time, a book club, and a group to practice tai chi. 
"We enjoy good fellowship together, and people feel better after a nice walk and talk," she said. "I listen quite a bit—about their past experiences and their life. A lot of them don't have people to talk to, and they just want a listening ear."
I have come to see my neighborhood as a place where God is already at work, and he is asking me to come alongside and participate with him.
Grace trusts God is at work in each conversation and gathering. She has watched people connect with one another and start to form friendships. 
"Go Local is a blessing to me," she said. "I go for walks and I see so many people I've already connected with. It's filled my life. It's given me a purpose and a focus."
Peggy and Neal Dekens have also grown in relationship with their neighbors through participating in the Go Local process and adopting the new spiritual practice of going for walks. They live along a gravel road just outside Lethbridge, Alberta. Many of their neighbors live on small farms. Neal in particular has taken to walking several times a week along the road to Lethbridge.
"Usually he goes right after work, and often others returning home will stop and chat," Peggy said. "Neal shares things about himself very easily, so it opens people up to share their stuff: relationship troubles, financial struggles, job woes, farm problems, and of course talk about cars a bit.
"God works through the relationships by building trust. And God calls us to pray for them," she added. "(I have come to) see my neighborhood as a place where God is already at work, and he is asking me to come alongside and participate with him."