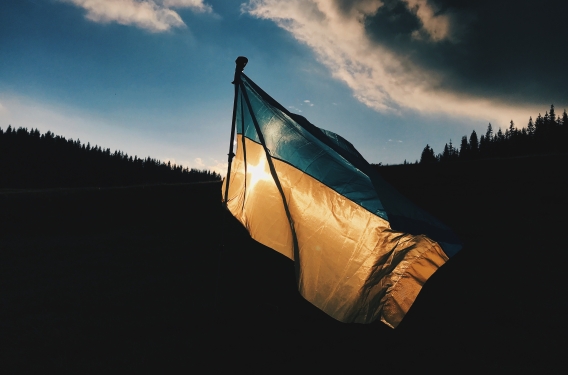 "We lament this violence and we plead with the Prince of Peace to bring healing and hope to the Ukrainian people around the world," said Resonate Global Mission Director Zachary King.
Russia has invaded Ukraine, launching attacks early on the morning of February 24, 2022. Resonate Global Mission has been working in Ukraine for more than twenty years. Ministry leaders and partners are all "okay for now," but they are not safe—and ministry leaders urge prayer for protection and for violence to cease.
"There's been a tragic loss of life and massive destruction," said Resonate missionary George de Vuyst.
George and his wife, Sarah, and their family are safe in the United States, where George has been working to help bring the Healing Hearts, Transforming Nations ministry to North America. He has been in touch with Resonate ministry partners and reports that all are okay for now. Many, however, live near the border where the attacks have been more concentrated.
"I've recently heard from one of our partners on the frontlines," said George. "They are under heavy shelling. Many elderly have no place to go. There are already over 100,000 displaced and long lines of refugees trying to flee into neighboring countries."
There are traffic jams, fuel and money shortages, and increased prices on groceries and gasoline.
"People are scared and many have few options … there is so much trauma and pain," said George.
Resonate missionaries serving at LCC International University, a Resonate partner in Lithuania, ask for prayer for their community as well. Nearly 30 percent of the university's students are from Ukraine.
"We feel safe but many students are deeply concerned for their families," said Steve Van Zanen, who serves at LCC and as Resonate's Regional Mission Leader for Europe. Steve notes that many university alumni—former students who Resonate missionaries have taught and mentored—are also living in Ukraine.
"Many of the Ukrainian students didn't think it would really come to this. They are surprised and rather unprepared," said Steve. "Some were intending to go to Ukraine a week from Friday when spring break begins. Now that is impossible."
Resonate missionaries have been checking in with students and offering prayer and support. On Thursday, Resonate missionaries Joel and Hailey Altena led a prayer and reflection time on campus for students, faculty, and staff. 
"[It] gave students space to grieve, pray, and share their stories," said Hailey. "We were also able to join our students downtown in a rally of solidarity for Ukraine along with hundreds of Lithuanians."
She asks for prayers for their students.
"Please pray for open communication lines between our students and their families, for their families to find safety, and for our students to find rest and peace as they struggle to focus on studies," she said.
ReFrame Ministries, a ministry of the Christian Reformed Church and a Resonate partner, also serves in Ukraine, as well as Russia. ReFrame reports that all of their ministry leaders, staff members, and families are currently safe.
"Our hearts are heavy with the news of a full-scale invasion of Ukraine," said Zachary King, Director of Resonate. "Resonate's Europe Regional Mission Team has a long history of fruitful mission engagement with Ukrainian people throughout Eastern Europe. In our prayers, we lament this violence and we plead with the Prince of Peace to bring healing and hope to the Ukrainian people around the world."
Please pray for Ukraine. You can find prayer requests for Ukraine here.