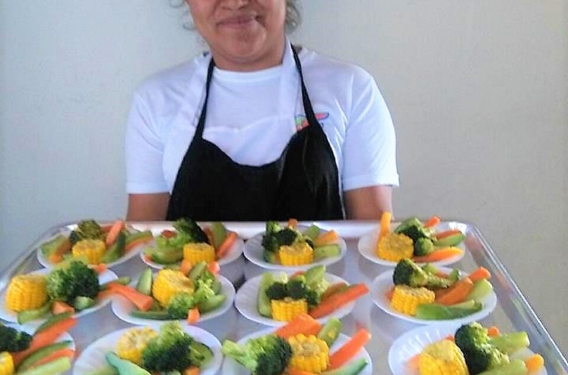 Note: Read the introduction to the Used Tires series to learn the meaning behind the metaphor.
In El Salvador, nearly 10 percent of the population are believed to be involved in gangs. Many people's hopes and dreams are cast away like "used tires." But your gifts to Resonate are making a difference there.
One of the ways that Resonate is working with young people there is through small businesses. Your gifts to small-business owners in El Salvador allow them to start a business, make a difference in their community, and pay their loan back for future business startups.
Josselin knows what this looks like.
Dreams of Cooking
When Josselin was a young girl she asked her mother to teach her how to cook, but was told, much to her disappointment, that she was too young. She thought her mother would teach her when she was older. But that time never came.
Josselin's mother passed away two and a half years ago, and with her, Josselin thought, her opportunity to learn to cook.
At only 15 years old, Josselin was in a "very difficult, almost hopeless situation of family crisis and chronic marginalization," says Roland Vanderburg, a missionary serving with Resonate Global Mission in El Salvador. Josselin's mother's death, her father's incredibly low income, and her community's poor reputation left her with limited options for her future.
Then one day Josselin saw an advertisement for a cooking class held at a church in her community of San Martin. She signed up without hesitation and she found that her dream of learning how to cook was still alive!
Social Business
The cooking school is just one of many programs started with help from Seeds of New Creation's social business fund. Seeds is a Resonate partner organization started by the CRC. In his service with Seeds, Roland Vanderburg helps equip churches and their leaders with the tools to bring the Kingdom of God to El Salvador.
"My specific role is to work with local churches and their leaders to strengthen community outreach and integral transformation efforts," Roland shares.  
Josselin was excited to begin the cooking school. Having little money, she assured the head chef that she would pay the $5 registration fee as soon as possible. However, the head chef, Chef Elmer, allowed Josselin to participate after seeing her eager attitude.
To her amazement, Josselin not only mastered cooking skills, but she became one of three cooking captains at the school!
"Josselin's new found sense of hope and dignity shines through as she continues to develop her considerable capacity for food preparation and business management," says Roland.
He continues, "Josselin is honoring her Creator through the development of her gifts, being blessed as she blesses many other people."
Your investment in people like Josselin—people who are often seen as 'Used Tires'—is creating beautiful, lasting change. Thank you! 
Read Part 2 of the 'Used Tires' series.
Donate Now
US Dollar Donation Form
Go to Canadian Donation Form