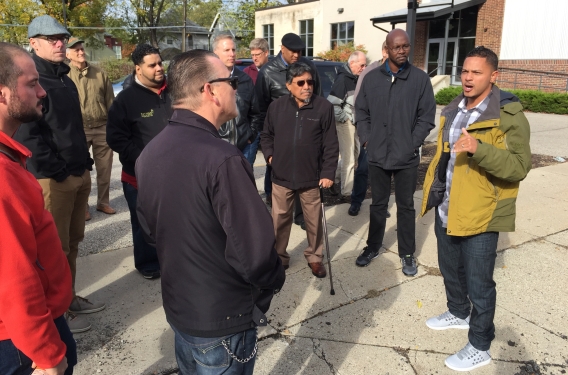 Urban ministry leaders who serve in Nairobi (Kenya), Guatemala City, and Camden, New Jersey—along with representatives from over 20 other of some of our world's largest and most complex cities— recently gathered in Grand Rapids to encourage one another in "seeking the peace of their cities while loving them into greatness."
The leaders were part of the Urban Training Collaborative, a joint initiative that includes Resonate Global Mission and two other organizations that seek to develop urban and incarnational leaders—Leadership Foundations and Street Psalms.
Strengthening South Africa
While the group of urban leaders meets regularly through video calls and webinars, it's especially helpful to meet face-to-face to share struggles and successes, says Resonate's Michael Ribbens. Ribbens regularly works with leaders from a variety of ministry and cultural backgrounds while he serves in Pretoria, South Africa.
"There's something about gathering together as a community," said Ribbens. Being part of the UTC also gives him a broader perspective in his work.
"This global community ends up being a way for us to come to deeper understandings of what it means to be on mission together," said Ribbens. "I know as a white American male that I have blind spots and I need my brothers and sisters from other parts of the world to point out those blind spots."
Strengthening Alaska
Another ministry leader connected to Resonate, Joel Kiekintveld, has also seen the UTC help him remove his blind spots as he serves young people and their families at a teen drop-in center called Parachutes in Anchorage, Alaska.
"All these youth came into Parachutes who didn't look like us," recalled Kiekenveld, referring to Anchorage's diverse racial and cultural makeup. "I remember asking myself, 'what did we do?'"
Yet through the UTC, Kiekenveld has met other urban leaders who are familiar with these challenges and able to help with his concerns and take the ministry further in its mission to show people the love of Christ.
"Being part of this network is something we come back to as what makes us kind of tick."
Challenges and Opportunities in Grand Rapids
The group meets annually in a different city from the global collaborative to get a better feel for the unique challenges each city poses. At this year's meeting in Grand Rapids, the group saw what ministry looks like for Justin Beene, a member of the UTC who directs the Grand Rapids Center for Community Transformation.
"As a city, we show really well," said Beene, citing examples like the more than 2,800 nonprofits in the city and the number of artists that come to the city each year for a national contest. "There's a lot of beauty to celebrate."
Yet even with these resources, Justin led members of the UTC on a neighborhood tour in the Madison Square neighborhood to point out some of the city's deepest issues—like the low youth employment rate and the disparity in home values just a few blocks apart.
He also shared how ministries in the area including Madison Square CRC and the Grand Rapids Center for Community Transformation are trying to address some of these issues.
As the group explored ways that God has been working in Grand Rapids, they also dreamed together about how they could continue to develop incarnational leadership in their own cities towards holistic social and spiritual renewal.
In the end, all of the leaders are asking a common question—how can we love our city in the name of Jesus and seek its peace?
"Loving the city means saying you do want to be a part of this place and the people who live here," said Joel Kiekenveld. "The city is something that you can love and embrace in its goodness and its failures."
Joel Van Dyke serves as the Mission Innovation Leader for Urban Mission for Resonate and in directs the UTC. "It was a dream come true to host this year's UTC annual training institute in Grand Rapids," said Van Dyke. "It is a huge honor to see such synergy between where we are headed as a denomination and how the Spirit of the Lord is dancing through a global network like the UTC."