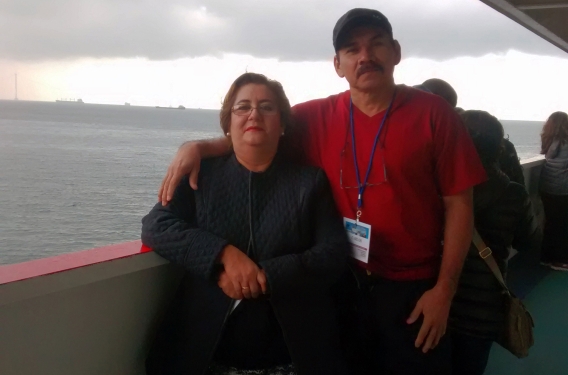 When Carlos lost his seven-year-old son, he felt the loss so deeply he turned his back on God. But then he attended an "Image of God" seminar facilitated by Resonate Global Mission missionaries Abe and Elaine Lee—and God turned Carlos' life around.
"I thought that God had abandoned me," said Carlos.
Carlos stopped praying, stopped reading scripture, stopped going to church. Instead, he set his mind on his job as director of a prominent middle school, where he worked 14-hour days. Years passed, but his grief never did. It made him angry and impatient with his coworkers and family. At the end of a long day, he was often short with his wife, Esther, when they sat down for dinner.
But one night, Esther invited him to attend a two-day "Image of God" seminar with Abe and Elaine in Cuernavaca.
Hope for Healing
Esther had heard testimonies of healing from the seminars. She believed the seminar would help renew Carlos' faith and restore their relationship—but it was a 10-hour drive from Villahermosa where they lived. 
"You think that I will go so far and even spend money for that?" Carlos thought. He told her he wasn't interested.
A few days later, she asked again.
Again, Carlos said he wasn't interested.
Finally, the day of the seminar was approaching.
"I registered you for the seminar and reserved a room at a hotel," Esther told him.
Going Back to the Word of God
Abe and Elaine note that in the "Image of God" seminars, participants look at their past, present, and future. "The past affects our present, future, and relationship with God," said Elaine. "What's the remedy for this? You have to go back to the Word of God."
Abe and Elaine led Carlos to address the pain and anger he felt losing his son. They explained how that trauma had distorted his view of God. They studied scripture and by lunch break on the first day, God was working to restore Carlos' faith.
God Restoring Faith
"I [became] convinced that God had his plans and that he wants the best for us," said Carlos. "I began to understand who we are [as children of God]."
By the end of the seminar, Carlos walked out of the church building with a restored perception of God's character and a renewed identity as one of God's children. "I thank God for changing my perspective of life that I had. I know I still need a lot more to change, but we are working and asking God to do his work in me."
God Transforming Lives
Since the seminar, God has transformed Carlos' life. 
"At the [end of the seminar], I had a desire to be a server of the seminar," he said. "The seminar has changed my life to such degree."
Carlos retired from his prestigious job so he could spend time volunteering at the seminars. "I know that, like my family, there are many other families to whom the seminar has been a blessing," he said. "It is an honor for me to serve."
Praise God for his transforming work in Carlos' life! Testimonies like Carlos' is the reason Resonate missionaries Abe and Elaine lead "Image of God" seminars. Pray for Carlos and his family as they continue to submit to God's ways. Pray that God continues to work through the Image of God seminars.