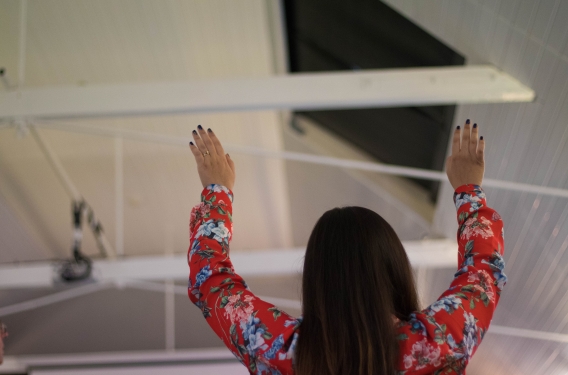 When you were last worshiping at church, did you wonder if the police would come and arrest you for your faith?
Have you ever needed to hide in a closet so the raging mob outside your house didn't see you through your window?
Have any of your friends or family members mysteriously disappeared after they accepted Jesus as Lord and Savior?
Christians throughout the world are risking their freedom—and even their lives—for their faith in Jesus. But they're not alone. They have you.
Through your support of Resonate Global Mission, you're linking arms with these Christians. You're sending missionaries, providing training, and discipling believers. And despite the pressure and persecution Christians are facing, the church is growing. These Christians can't share their names. Many can't share their locations. But they can share their testimonies.
10 Baptisms in 

XXXXXX
You can be a Christian in XXXXXX—but only if you don't make the government, your employer, or your family too nervous.
Christianity's gospel of truth seems to make the government anxious. In some areas, officials keep a close eye on religious activity and continue to add new rules about what types of activities churches can hold. If they hear or see something they don't like, they close the church.
Pastors are being removed from the pulpit and placed in jail. Employees might be passed over for a promotion because of their faith. Parents get nervous if their child takes an interest in Christianity. If you're a Christian, you have to be careful about what you say and how you say it.
But God is still working in XXXXXX, and you're standing alongside believers by sending Resonate workers to the country.
Resonate staff member XXXXXX mentors and disciples Christian leaders such as XXXXXX. XXXXXX became the pastor of her church two years ago, but she hasn't been to seminary and isn't ordained. Opportunities for pastors to train in XXXXXX are scarce and hard to find. That's why you send Resonate staff to the country instead.
Each week, XXXXXX talks with XXXXXX. They read books together, pray together, and discuss the challenges of ministry together.
"Despite challenges, the church body is still growing," said XXXXXX.
Leaders such as XXXXXX are working hard, and God is opening doors for believers to share the hope of the gospel. XXXXXX's church, for example, has started leading worship services at a nursing home.
"Nursing homes can be lonely places," said XXXXXX. "Most of the people who live in them either have significant health issues their children can't care for, or their children live far away … some people started attending the services because it was something to do and offered some connection with the outside world."
With XXXXXX's support and guidance, XXXXXX and her church have invested a lot of time in the worship service at the nursing home. Many of the nursing home residents and staff have no knowledge of Jesus—but as XXXXXX and her church returned week after week, the nursing home residents and staff heard the truth of the gospel and experienced the love of Christ.
More than 10 people have accepted Christ and have been baptized.
"This is why I live in XXXXXX," said Resonate worker XXXXXX. "This is why I navigate the culture-stress days and complexities of serving here. This is what I'm excited to see God doing—encouraging stretched-thin leaders as they serve in their local context."
She said this ministry wouldn't be possible without your support. "Thank you for the ways you've contributed to 10 people being baptized in a nursing home on the other side of the globe!"

Names of believers, missionaries, and countries have been redacted to protect those involved.
A version of this story was originally published by The Banner.
Donate Now
US Dollar Donation Form
Go to Canadian Donation Form