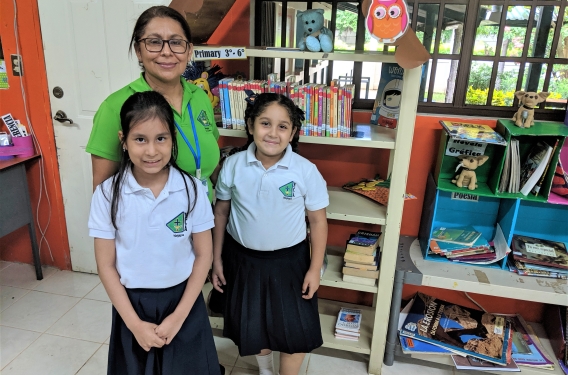 Thanks to a recent donation of children's books, kids at Nicaragua Christian Academy (NCA) in Nejapa are getting excited about reading—and Resonate Global Mission missionary Susan Benthem said it's a big answer to prayer. 
Out with the Old
Susan and her husband Jared serve with Resonate in Nicaragua, where Susan works as an academic dean at NCA Nejapa. Earlier this year, she noticed the books in the school library were getting old.
"Kids weren't really checking them out," said Susan. Kids weren't reading.
A former librarian and friend of the Benthem's suggested a book drive and offered to help organize it. Susan created an Amazon wishlist, sent emails and posted on Facebook, and prayed.
The response surprised her.
A Generous Donation
Susan never expected to receive over 300 books. Friends and family in North America purchased and gathered books, and a group from Ivanrest CRC, the Benthem's sending church in Michigan, brought them to NCA Nejapa. 
With so many books, Susan decided to do something special with some of the picture books they received: she gave them to teachers for their classrooms.
"Most of them didn't really have a classroom library at all," said Susan. "Now I have kids say, 'Thank you for the books, Mrs. Benthem!' because they're excited to have some books just for their own classrooms."    
Eager to Read
For Susan, it's encouraging to see kids at NCA Nejapa get excited about reading for fun.
"It's kind of a foreign concept to a lot of people in Nicaragua," said Susan. "We want to teach parents that they should encourage their kids to read at home because a lot of parents don't realize it's a good educational and beneficial activity for their kids to do."
Now, students are excited about reading. They're checking books out at the school library and reading for fun! It's so good for students' education.
"We see kids who are choosing to read at recess now or even bringing their books home to read," said Susan. "They're able to see reading as something they can choose to do, not something they're forced to do." 
Prayers Answered
Susan is thankful for friends, family and Resonate supporters for contributing to the book drive and being a part of the ministry at NCA Nejapa.
 "It's really an answer to prayer," said Susan. "Even though it's small, a book can make a big difference in the lives of our students."
Please pray that students will continue to develop a passion for reading, and pray for Susan and the NCA Nejapa staff as they encourage their students and shine a light for Christ!