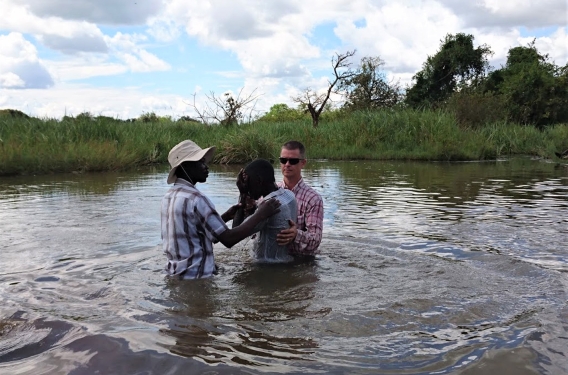 The coronavirus pandemic restrictions have prohibited Resonate Global Mission missionaries Josh and Mandy Shaarda from visiting prisons in East Africa—but inmates that the missionaries and their team have discipled are sharing their faith. And people are giving their lives to Christ.
Resonate missionaries Josh and Mandy Shaarda serve with Freedom in Christ Ministries in East Africa. A major aspect of the Shaarda's ministry is to share the gospel with and disciple inmates in local prisons.
Shortly before COVID-19 hit, the Shaardas traveled to the United States with their family. Due to travel restrictions, they have been unable to return to East Africa—and the rest of their discipleship team have also not been able to visit local prisons because of health precautions.
But the Holy Spirit continues to work in powerful ways through your support. Josh and his team have discipled believers inside the prisons to share their faith, and those believers are stepping up.
"The inmates we have trained are actively sharing their faith and helping people grow in Christ," said Josh.
An officer in one of the prisons recently shared with Josh that a few of the believers decided to hold a worship service. Many of the men who are serving time have led difficult lives. Some of them are imprisoned because they couldn't repay a debt or felt they had no other option but to steal. Some have been falsely accused of crimes. Some have committed murder or manslaugther.
For whatever reason they are imprisoned, many of them struggle to find hope.
But that day, during the worship service led by believers in the prison, they learned about the freedom, hope, and grace that comes from a relationship with Christ. Many people took the message of the gospel to heart.
"Both staff and inmates turned themselves to Jesus Christ and got saved," said the officer. "It was a joy and a blessing. For the first time in 20 years working in the prison, staff, and prisoners are coming together in prayer! Glory to God in the highest!"
Thank you for supporting Resonate missionaries like Josh and Mandy who disciple believers to share the gospel. Many people are aching for the hope that only the gospel provides. It is so important for believers to know how to—and have the courage to—share their faith.
"People are coming to salvation, discovering freedom from sin, and experiencing God's intention for their lives," said Mandy. "Thank you for joining with us in this ministry!"