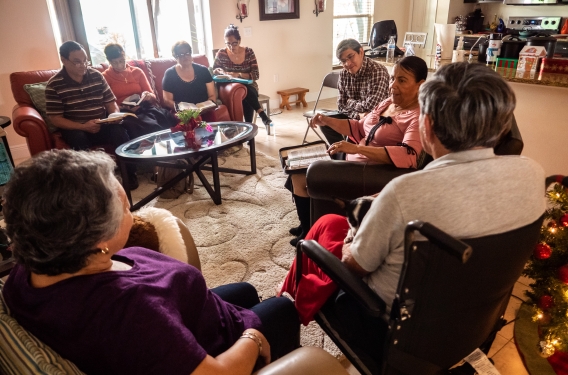 Three months before the Orlando nightclub shooting in June 2016, Magda experienced profound sadness and felt an urgency to pray.
Magda is a member of Iglesia Cristiana Reformada Comunidad de Fe Poinciana, a Resonate Global Mission church plant located an hour South of Orlando. Unable to explain the pain she felt, Magda began fervently praying and reading Scripture. She asked her church family to pray for her.
And then the night of the PULSE nightclub shooting—a mass shooting in the United States in which 49 people died and 53 were wounded—Magda received a call that her 39-year-old son Luís had been killed.
Finding Support in Community
"I know that God prepared me," said Magda, but it still felt like her own heart had stopped beating.
Luís was adored and loved by many, and people came to Magda in shock when news of his death spread. "He was such a giver," Magda said. "He would stick money in my purse, and he started doing that with other people when he saw them struggling. He never boasted about it or told people it was him, but people knew."
Magda's church community surrounded her with care and comfort. "I never thought that the church could have so much love," said Magda. "The church is my family."
Trusting in God's Promises
With the support of a faith community, Magda continued to pray and read Scripture. She memorized God's promises in Jeremiah 33:6—that God would heal his people and let them enjoy abundant peace and security.
She knew she was not the only one who lost someone in the shooting. Many mothers, fathers, sisters, and brothers were grieving. Magda wanted to share God's promises with them.
Sharing Hope Found in God's Promises
Magda joined a support group for relatives of the victims that still meets today. Magda said that many of the family members have not been able to cope with their grief, but they notice something different about the way she grieves.
"It gave me the opportunity to share the gospel," said Magda. "I try to encourage other people to believe those promises as well. If you don't trust in God or his promises, I don't know how you can live."
Magda does not only attend the support group, but she pursues relationships with the other mothers who lost their children. Her confidence in God's promises reassures believers and comforts those who do not yet know Christ.
Magda's community at Iglesia Cristiana Reformada Comunidad de Fe Poinciana continues to walk alongside Magda, encouraging and empowering her as she comforts others.
"Don't distance yourself from God," Magda said. "He doesn't distance himself from us."
Resonate Global Mission helps to plant churches that provide much-needed support for people like Magda who are grieving and in need of community. Give thanks for Magda's confidence in God's promises and please pray for her and those she ministers to. Ask God to draw near to them in their brokenheartedness. Pray that those who don't yet know him will come to accept his goodness and grace in their lives.
This story was originally published on crcna.org.