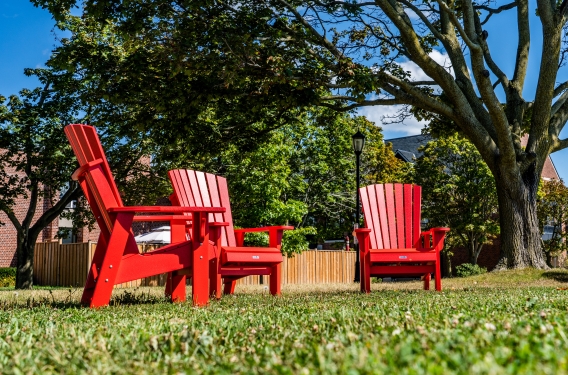 Did you know that God's mission can be part of our everyday lives?
Mission is not limited to missionaries serving overseas, worship gatherings at church, or planned programming and outreach events. Through Resonate Global Mission's Go Local, believers in the Christian Reformed Church are making God's mission a part of their daily lives through building relationships in the neighborhoods right where God has placed them.
"In the modern era, I'm not convinced the model 'if you build it, they will come' will bring neighbors into your church's doors," said Peter*, an outreach team member at a Christian Reformed Church in Tinley Park, Illinois.
That's one of the reasons why Peter and four other members of his church participated in Go Local. Through the Go Local process, Peter and his wife have become more intentional about connecting with people in their quiet Chicago suburb through simple actions such as joining a neighborhood Facebook group and shoveling driveways.
This year, they hosted an "Oliebollen Party." On New Year's Day, they huddled outside and served oliebollen, or fried doughnuts. "Neighbors stayed for a while and we had a heel gezellig (very cozy) time," said Peter.
Not all of their neighbors attended, but the invitation opened up conversation with a few other neighbors. While a woman a few houses down the street was shoveling her driveway, Peter went outside to shovel his own driveway. As the two met at the sidewalk, she asked how the party went. Peter asked if she knew very much about the couple who lived in the house between them, and she shared that one of them had had multiple back surgeries, including one surgery that past summer. So, they shoveled their neighbor's driveway together.
Peter said this work is about being "Christ in the neighborhood."
"More important," he said, "watching the Holy Spirit work, while we are simply God's vessels of love and hospitality."
Stepping Out in Support
In Calgary, Alberta, Ben* has started taking daily walks around his middle-class neighborhood—a practice he started because of Go Local. Through walking the neighborhood over the past few years, Ben has gotten to know quite a few of his neighbors.
One day, he met someone new: Arin*.
"He had appeared from a home that our neighbors tend to refer to as the "halfway house"—a place that is home to an always changing cast of young men who do not interact with neighbors," said Ben. 
Despite the warm weather that day, Arin was hiding in a sweatshirt, his hood pulled up over his head. He asked Ben to borrow a phone. Ben didn't have his phone on him, so they walked over to Ben's house. The two sat outside, and Ben learned that Arin had moved around quite a bit in his lifetime, was currently living on a disability stipend because of mental illness, and roomed with six other men. Spending most of his money on drugs, he had pawned his phone to pay a debt to a friend who was threatening him. He hadn't eaten in days. 
Ben made Arin a sandwich, helped him get his phone back from the pawn shop, and connected him to a local pastor who used church funds to help Arin secure groceries.
"The more we talked, the more I seemed to be drawn into Arin's life," said Ben. Arin was eager to heal from his drug addiction, and a few weeks after meeting Ben, he was taking those first steps. He had stayed sober and had also found work.
Being intentional and available in our neighborhoods actually makes a difference for us and our neighbors.
"It makes me realize that every meeting is the beginning of a relationship. And that relationships require commitment," said Ben. "I am slowly introducing [Arin] to a couple of neighbors … hoping to build a bit of a community support network."
Because Ben had been taking his daily walk and was being intentional about opportunities to build relationships with his neighbors, he met Arin. Ben was not only able to support and encourage Arin, but willing to step out into his neighborhood and join God at work.
"Being intentional and available in our neighborhoods actually makes a difference for us and our neighbors," said Karen Wilk, a Resonate Go Local catalyzer. "Perhaps we shouldn't be so surprised that these simple actions become life-giving and faith-forming experiences since we believe that God is at work in God's world. But somehow, we always are!"
*Names have been changed
Want to discover what it means to be sent into your neighborhood? Learn more about Go Local at www.resonateglobalmission.org/golocal
Donate Now
US Dollar Donation Form
Go to Canadian Donation Form