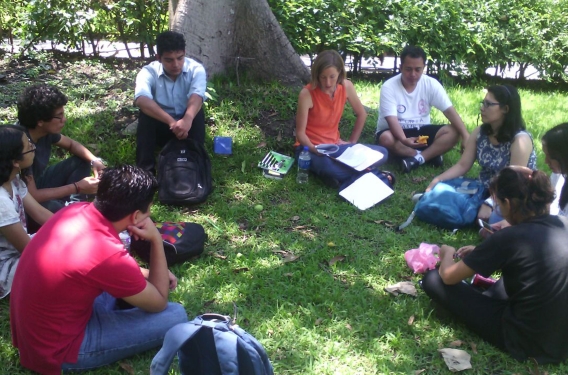 Nadji Remer has been searching for God's comfort and healing in places of deep lament through her service with Resonate Global Mission and Seeds of New Creation in El Salvador.
Nadji began serving with Resonate as a volunteer early in 2017. Her grandma prays for missionaries regularly, and Nadji credits those prayers with strengthening her to serve where she was needed—not where she initially wanted to go.
"When I came [to El Salvador], I was hearing a lot of stories about the violence, broken families, and the political [unrest]," she said. "I had a lot of questions. I was wondering what the church was doing, and nobody had a clear answer. Often people in churches will say to those who are suffering, 'Stay strong! Don't cry because 'God is good.'"
In addition to the pain of those around her, Nadji was processing her own disappointment. The desire of her heart was to serve in Bangladesh, where she had lived before. But due to complications, she decided not to return at that time. She visited El Salvador to see if volunteering with Resonate would be a good fit.
"I would ask my friends, 'Why am I here?' And it was a mystery to all of us," she said.
"About the second or third week, I started to get the feeling like when you are swimming and you see a shadow in the water and you wonder, 'Is it a crocodile or a really big fish?' I kind of had that feeling like something is happening here [but] I didn't know what it was."
Shortly after, Nadji began leading healing groups using Healing the Wounds of Trauma—a program Nadji describes as "part workshop, part Bible study"—with Christian leaders and students from the National University. 
And through these workshops, God has begun to heal Nadji and participants.
"At the university, I met Pamela. I knew she  had gone through a lot of really hard things—family things and the death of a friend. So, I invited her to be part of a healing group," Nadji shared.
By talking with other participants, Pamela saw that she was not alone.
"The workshop helped me understand more about myself, and my parents as well," Pamela said. "The truth is when we come to know Jesus, and we have had a past that is broken or full of sin, Jesus offers us his forgiveness, and we know that we have been forgiven by him."
The workshop helped Pamela forgive herself and understand the grace of God in a new way.
"I'm excited for her," Nadji said. "Because I see her as a great potential leader of the Church—not just of a single [congregational] body, but the Church. She's really good at connecting with [hurting people] and giving them hope."
Nadji now sees light and transformation where once there was only confusion and pain. She is committed to her ministry through the Healing the Wounds of Trauma program. After her volunteer service ended, she decided to continue partnering with Resonate and Seeds of New Creation in El Salvador.
"I am trying to make sense of the suffering in the world. One of the key things I have learned here is that God is at the side of those who are suffering, and he is a God who listens to and seeks out those who are suffering," she said.
Thank you for supporting Resonate's work in El Salvador. Your prayers empower people like Nadji and Pamela as God daily redeems the brokenness of the world. 
This article was originally published on crcna.org.