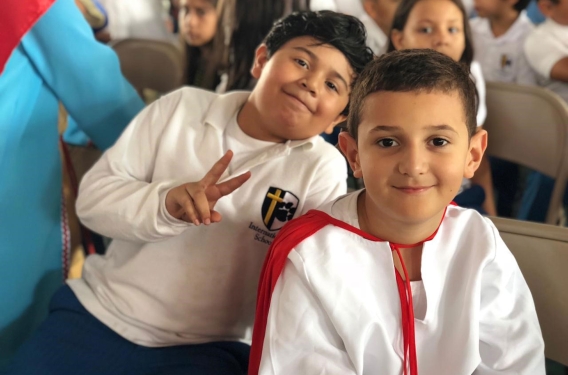 Students rushed into Resonate Global Mission missionary Hannah Damsteegt's classroom at Resonate partner International School of Tegucigalpa (IST) in Honduras. They knew the day was going to be different.
Everyone at the school—from the students and teachers to the lunch workers, office workers, and principal—was dressed in white. "That was to signify Christ rising from the dead again and your sins being washed away and becoming white as snow," said Hannah.
IST is a Christian school, but not all students come from Christian families or believe in Jesus. Their parents might follow Jesus, but students need to discover who Jesus is to them.
And that day, Hannah and her fellow IST teachers asked their students to make a decision for Christ.
Showing God's Love in the Classroom
Hannah shares the gospel with her third graders at IST every day by praying with them, teaching biblical principles in her lessons, and treating her students with compassion. But Hannah doesn't just want her students to go through the motions and know the answers to the questions she asks about God and the Bible—she wants them to personally know Jesus as their Lord and Savior.
So that day, Hannah and her students did something different.
Sharing the Gospel
Hannah shared her testimony with her students. Students listened quietly as she shared with them how important Jesus is to her. She talked about Jesus' life on earth, his death on the cross, and how he rose from the grave. She shared the hope she has in Christ.
Thinking about everything Hannah said, students filed out of their classroom and out into the schoolyard to worship the Lord. The entire school crowded together—a sea of white swelling with the lyrics. Hannah said students were singing as loud as they could, many of them dancing.
"You get goosebumps," said Hannah.
As the last chords of praise rang out, students returned to their classrooms and Hannah gathered her third-graders in a circle.
"We all closed our eyes and we said a prayer," said Hannah. "If there's a student here who feels it in their heart to open up and ask Jesus to live in their heart, please allow them to do so."
Six students prayed to ask Jesus into their heart that day! Through hearing the gospel and worshipping God, six students experienced the life-changing grace of Jesus and said "yes" to following him.
"That's wonderful," said Hannah. "Really, really wonderful."
But that's not the end of the story.
God's Not Finished Yet
"The thing that really got me was that I had two or three kids [say]: I don't know. I'm confused. I need more time to think about it," said Hannah. "We still have to pray for those little ones who are still not sure."
God's not finished yet! There are students at IST and throughout the world who need to know more about Jesus. The Holy Spirit is working because you send Resonate missionaries like Hannah to classrooms throughout the world.